SK Hynix planning enormous US$107 billion semiconductor fab investment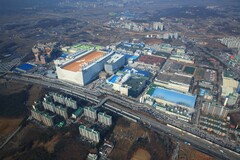 Reuters has reported that the South Korean chipmaker SK Hynix is planning on investing 120 trillion won (~US$106.6 billion) on chip manufacturing plants. The company will also spend an additional 55 trillion won (US$49 billion) on two existing factories over the next 10 years. SK Hynix is the world's third-largest semiconductor vendor by revenue.
SK Hynix is apparently planning on making two massive investments into its future semiconductor business to maintain its position as one of the world's largest chipmakers. Once the firm has a letter of intent approved, the plan is to spend almost US$107 billion on four new fabrication plants and invest a further US$49 billion on bringing existing factories in line with the new fabs.
The investment will take place over a period spanning 10 years and is expected to start after 2022. It's a huge project for SK Hynix, but it pays to remain competitive in the highly lucrative semiconductor market. Worldwide revenue in this particular industry in 2018 was estimated at US$476.7 billion, with the South Korean chipmaker snagging a decent 6.4% share (US$36.433 billion). The firm trails behind Samsung and Intel overall, but it has been enjoying stellar revenue growth thanks to its DRAM production.
In fact, SK Hynix may only be the third-largest semiconductor manufacturer, but when it comes to memory, just Samsung makes more chips. The long-term investment would create a greater challenge against its domestic rival and also allow SK Hynix to compete with the growing chipmaking threat coming from China, which wants to reduce its reliance on foreign manufacturers for its vast chip consumption (US$270 billion in imported semiconductors in 2017).