Report places Samsung ahead of Intel in semiconductor market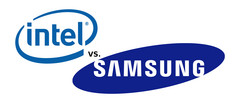 A press release from research company Gartner has stated that Samsung has overtaken Intel as the world's largest semiconductor vendor. The figures for 2017 show the South Korean company gaining 14.2% of the global market share whilst their rivals in California managed 14.0%. Samsung's top place has been partly attributed to revenue growth in the memory market.
Analysts at Gartner have released a report detailing the top 10 semiconductor vendors by revenue worldwide for 2017. Samsung has clinched the top position, followed by Intel and SK hynix. This is especially newsworthy as Intel has occupied first place for the last 25 years and has been practically synonymous with the title "world's largest semiconductor vendor." Price rises in the fluctuating memory market have given the South Korean giant a boost in revenue, enabling the company to finally overtake Intel.
Total revenue for the market was estimated at an incredible US$420 billion, up from US$345 billion in 2016. Samsung earned US$59.8 billion in 2017's worldwide semiconductor market and Intel's revenue was US$58.7 billion. There has been speculation that once the memory market becomes less volatile, Intel could manage to regain the crown as top semiconductor vendor. Increases in memory production in places like China should see global prices fall. Apparently, more than two-thirds of Samsung's revenue growth is based on memory sales, so if the analysts' forecast is accurate it shouldn't be too long before Intel and Samsung switch positions again.