Intel discontinues its Kaby Lake-X series after 10 months from launch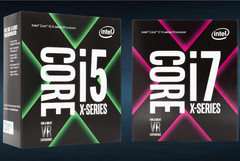 The only two quad-core Kaby Lake-X CPUs launched back in summer 2017were supposed to provide an entry point for the Intel's HEDT chips, but sold very poorly, because the Coffee Lake hexa-cores launched just a few months later. OEMs and resellers will be able to order the two chips up until November 30 and Intel will be pulling the plug on May 31, 2019.
Back in the summer of 2017, Intel launched the Skylake-X CPU series with the X299 LGA-2066 HEDT platform that was designed for overclocking enthusiasts. Skylake-X features CPUs that integrate between 6 and 18 cores, but Intel also decided to throw in a couple of quad-core chips – the i5-7640X and the i7-7740X - that are known as the Kaby Lake-X series. These two were very similar to the Skylake and Kaby Lake chips already offered for the LGA 1151 platform and were not received well at all, especially considering that Intel also launched the 6-core Coffee Lake mainstream CPUs later in September 2017. This caused very poor sales for these two models in particular and Intel is now determined to discontinue them altogether.

Rumors about a possible EOL cycle for the Kaby Lake-X have been circulating around the Net for a few weeks now. The official discontinuation announcement was made on Monday, stating that OEMs and component resellers will be able to order these chips up until November 30 this year. These orders will be shipped by May 31, 2019. The i7-7740X is currently priced at US$349, while the i5-7640X costs US$242, but, even if the chips did not sell well, Intel is not planning any price cuts.

This is the first time Intel initializes the EOL cycle for a product that has not been on the market for more than a year. The poor sales are most definitely not affecting Intel, but discontinuing the Kaby Lake-X chips this soon could mean that Intel is planning to ramp up production for the upcoming Cascade Lake HEDT models.