Intel officially unveils Coffee Lake desktop CPU prices and details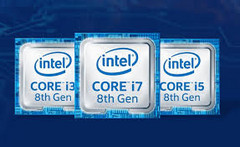 Intel's gen 8 desktop CPUs are expected to be available on October 5. These require the new Z370 chipset and support memory modules up to DDR4-2666. The lowest priced model is the i3-8100 quad-core at US$117, while the flagship i7-8700K 6-core/12-thread CPU costs US$359.
Most of the details about Intel's 8th generation desktop CPUs were already known, however, the price and availability information was just officially revealed. Intel upped the core count for the i5 and i3 families, which now include 6-core and 4-core models, respectively, while the Core i7-8700K is said to be the best gaming CPU and features 6 cores / 12 threads.

The new gen 8 Core i3/i5/i7 desktop CPUs should be considered as Intel's direct response to the Ryzen 3/5/7 processors from AMD. This is made clear by the aggressive price point for each model:
• Core i7-8700K – US$359
• Core i7-8700 – US$303
• Core i5-8600K – US$257
• Core i5-8400 – US$182
• Core i3-8350K – US$168
• Core i3-8100 – US$117

All gen 8 desktop CPUs are compatible with the old LGA 1151 socket, but will require motherboards that come with the Z370 chipset. The new platform supports DRAM modules up to DDR4-2666 and integrates a total of 40 PCIe lanes, with 16 of these dedicated to the GPU. New features also include native 4K HDR, Thunderbolt 3 and Intel Optane memory support.

According to Anand Srivatsa, Intel's general manager for the desktop platform, the new desktop models will be available starting October 5. Srivatsa also mentioned that the Coffee Lake line will also include new ULV Celeron and Pentium CPUs, but these will be released in 2018.