Intel's 'Coffee Lake-S' (CFL-S) CPUs are now official and so are Clevo's new gaming laptops. Clevo has announced the launch of three new models powered by CFL-S chips — the flagship P870TM, the P775TM, and the P751TM — all geared to provide the best gaming experience possible on a laptop. Clevo has also released some preliminary benchmarks of the new chips so without further ado, lets delve into what Intel's latest and greatest has to offer.
Clevo P870TM Series and Initial CFL-S Benchmarks
The Clevo P870TM is the flagship model in the new lineup and can be customized with a choice of either 65W CFL-S CPUs such as the Core i5-8400 and Core i7-8700, or the 95W variants such as the Core i5-8600K and Core i7-8700K. The P870TM series also offers a choice of either the NVIDIA GeForce GTX 1070 or the GTX 1080 in both single and SLI configurations. According to Clevo, the notebook also features the following specs —
A 330W—660W power supply based on the GPU configuration
Four memory slots
Overclockable CPU and GPU, and support for Intel Extreme Memory Profile (XMP) up to 3000MHz
Killer Double Shot Pro Wireless
ESS High resolution headphone audio
44-key rollover anti-ghosting back-lit keyboard
Support for 4K/FHD 17.3-inch displays with NVIDIA G-SYNC
Core i7-8700K Benchmarks
Intel's CFL-S Core i5 and Core i7 chips are a direct answer to AMD's Ryzen 5 and Ryzen 7 CPUs, therefore, it will be interesting to see how they fare in the benchmarks. There aren't many benchmarks in the wild yet (hey, the CPU just launched) but we've reported earlier that some folks got to play with what Intel calls the 'Best gaming desktop processor ever', the Core i7-8700K. Clevo has given us numbers of some of the benchmarks performed on their new laptops and we see that the scores do match up to what has been reported till date.
Cinebench R15
In Cinebench R15, we see impressive scores over the entire CFL-S lineup. The Cinebench R15 Multi scores sent by Clevo are higher (1396) than the results posted on earlier Videocardz (1230). Whether this could be due to any OEM specific enhancements by Clevo or something else we do not yet know, but we are not complaining. Intel comfortably leads in the singe threaded test but still falls behind the Ryzen 7 1800X when it comes to multi-threaded scores.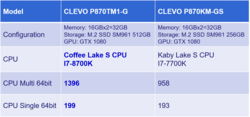 Clevo also claims a 45.7% increase in multi-threaded performance of the Core i7-8700K over the previous generation P870KM model featuring the 'Kaby Lake-S' Core i7-7700K. There is apparently not much of a difference in the single-threaded performance compared to the Core i7-7700K. Overall, multi-threaded workflows should see considerable benefits over the previous generation chips.
3D Mark 11
The P870TM also looks to impress when it comes to GPU performance. Clevo shared some comparison scores of configurations with the GTX 1070 and GTX 1080 in both single and SLI modes and the results seem to show good performance benefits. The SLI configs had good overclock performance (Clevo said that the overclock was applied to the CPU, GPU, and the DDR4 RAM) and should be considered if better GPU performance is desired but they posted rather low physics scores compared to single configs for reasons, which might require more hands-on testing. Therefore, physics heavy games such as The Witcher 3 would rather benefit from single GPUs than SLI configs in these notebooks.
Clevo P775TM and P751TM Series
Alongside the P870TM, Clevo also announced the availability of P775TM and P751TM series of notebooks. Both these laptops feature 230W—330W power supplies and otherwise similar specs to the P870TM including the choice of processors, but differ mainly with respect to the GPU options. The P775TM offers a choice of the GTX 1060, GTX 1070 or GTX 1080 in single configurations while the P751TM offers a choice of the GTX 1060 and GTX 1070, again, in single configurations. The P775TM also features an improved audio setup with an in-built subwoofer-speaker combo and all three models are tuned by Creative's Sound Blaster X Pro-Gaming 360 for a high definition audio experience.
Overall, the new Clevos with CFL-S CPUs seem to show good promise and make for some formidable gaming machines. We also expect other Clevo-based resellers like Sager, Eurocom, Schenker etc., to debut great gaming laptops featuring Intel CFL-S chips very soon. We'll surely be reviewing these notebooks as they come, so do watch this space.