Dell Aurora R7 starts shipping today as the first desktop to offer six-core Coffee Lake-S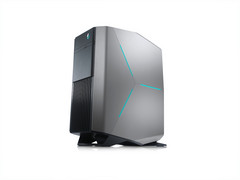 The refreshed Aurora R7 desktop from Alienware starts shipping today, including Intel Coffee Lake-S six-core processors and AMD RX or Nvidia GTX graphics cards. Dell claims that this is the first pre-built desktop to offer the Coffee Lake-S processors.
Announced a few weeks ago, the refreshed Alienware Aurora R7 starts shipping today in the United States. The Aurora R7 is equipped with six-core Intel 8th Gen Coffee Lake-S processors, in both i5 and i7 non-overclockable or overclockable variants. K-series processors will arrive from Alienware with a factory overclock applied; the i7-8700K will come at 4.6 GHz on all cores, while the i5-8600K will be set at 4.4 GHz on all cores.
While graphics options currently include AMD RX and Nvidia GTX cards, users will be able to configure their build with AMD RX Vega 64 in late 2017. The base power supply is 460 W with an optional 850 W model for systems using multiple GPUs. The external case measurements are 360 x 472 x 212 mm (14.1 x 18.6 x 8.4 inches) L x H x W.
Aurora R7 lower
Aurora R7 middle
Aurora R7 upper
Processor
i5-8400 / i5-8600K / i7-8700 / i7-8700K
i5-8400 / i5-8600K / i7-8700 / i7-8700K
i7-8700 / i7-8700K
Memory
8-64 GB 2666 MHz or 2933 MHz DDR4
16-64 GB 2666 MHz or 2933 MHz DDR4
16-64 GB 2666 MHz or 2933 MHz DDR4
Graphics
* AMD RX 560 / 570 / 580
* Nvidia GTX 1060 / 1070 / 1080 / 1080 Ti
* Dual AMD RX 570 / 580
* Dual Nvidia GTX 1070 SLI / 1080 / 1080 Ti
* Nvidia GTX 1060 / 1070 / 1080 / 1080 Ti
* Dual AMD RX 570 / 580
* Dual Nvidia GTX 1070 / 1080 / 1080 Ti
* Nvidia GTX 1070 / 1080 / 1080 Ti
* Dual AMD RX 570 / 580
* Dual Nvidia GTX 1070 / 1080 / 1080 Ti
SSD
Up to 1 TB NVMe
Up to 1 TB NVMe
Up to 1 TB NVMe
HDD
Up to 2 TB 7200rpm + 32 GB Intel Optane
Up to 2 TB 7200rpm + 32 GB Intel Optane
Up to 2 TB 7200rpm + 32 GB Intel Optane
Price
Starting from US$800
Starting from US$1200
Starting from US$1700
Alienware Aurora R7 reviewers guide