For the original German review, click here.

Optane Memory is Intel's first product based on 3D XPoint that is available for end consumers. The new storage technology was created in cooperation with Micron and, unlike NAND memory, is not based on different voltage levels, but on changes in electrical resistance. Forgoing the field-effect transistor enables a higher transistor count and faster data transfer rate - at least in theory.

We have taken a look at the Optane Memory's performance as a classic storage device rather than as cache, with the aim of making a prognosis about its possible future use as an SSD competitor. Intel itself has been pushing its use as cache. You will find our usual graphs with detailed results of our tests at the end of this article.

Intel Optane Memory
Intel's Optane Memory is an M.2-2280 storage module that is connected via two PCIe 3.0 lanes and NVMe. The chip is 22 mm (~0.86 in) wide and 80 mm (~3.15 in) long. Intel's system requirements are comparatively high, so it supports only seventh generation Intel processors. You can find a detailed list here. The chips have a capacity of either 16 or 32 gigabyte and are currently available for about $45 and $80 respectively.

Methods of Testing
We have tested the Optane Memory in various categories with particular focus on synthetic benchmarks against M.2 SSDs, which are direct competitors of the Optane Memory for end consumers. We would like to mention the difference between the so-called sequential and random access: sequential reading and writing happens "in one go", for example when reading or writing a large movie file. Simply put, the file does not have to be searched for and therefore can manage very high data transfer rates. The opposite is the case for random operations, where various sectors of the storage device need to be accessed. In practice, these random operations with smaller files are a lot more common - which is why SSDs seem to speed up the entire system so much. In the worst case, a conventional hard drive has to move its read head over the entire magnetic storage, just to access a certain file.

Results
Looking at the sequential data transfer rates, Intel's Optane Memory did a comparatively bad job. Both the AS SSD and CrystalDiskMark 3.0 show a distinct deficiency in the write rates: the maximum write rate of about 300 MByte/s leaves it way behind the M.2 PCIe competition and even models with SATA connections can offer better performance. Sequential reading is a lot faster in the Optane Memory, but its speeds are still not really competitive.

Random reading and writing show the exact opposite: Our 32-GB test unit had very high transfer rates, although these did also depend on which benchmark was used. In the AS SSD, the storage device was just ahead of its competition in writing 4K files, while reading rates were five times as fast. The CrystalDiskMark 3.0 confirmed these results. We noticed that the maximum sequential write rates for the Optane were almost equivalent to those of random operations, which would be very unusual in normal SSDs. This turns around again with an increasing queue - at least for the write rates.

Verdict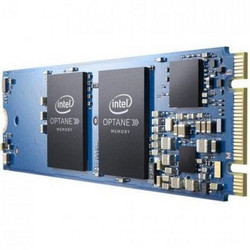 We believe that Intel's Optane Memory is still not particularly suitable for the general consumer market. While the very high random rates can be an advantage with Windows, the difference in speed to normal SATA or even PCIe SSDs is irrelevant for end consumers. Professional users (who might actually prefer the Intel Optane P4800X) will most probably still go for a usual NVMe SSD due to the Optane Memory's high price - although this might not be true for very specific needs.

The use of the chip as cache memory combined with a classic hard disk is basically a good idea, but probably only suitable for lazy users who only use a hard drive despite the modern Kaby Lake system and do not want to transfer all their data onto a - probably similarly priced - SSD. The number of these users is, however, very, very low. We are also uncertain about the use of Optane Memory in notebooks or compact systems, since equivalent PCIe SSDs are available for only a little more money.

AS SSD
Copy Game MB/s
Eurocom Tornado F5


GeForce GTX 1070 Mobile, i7-7700K, Samsung SSD 960 Pro 512 GB m.2

i7-7740X Asus X299 Prime


GeForce GTX 1080 Ti, i7-7740X, Intel Optane 32 GB MEMPEK1W032GA

1107

(409min - 1107max) MB/s

∼84%

Samsung 960 Pro 1TB


Titan X Pascal, E5-2680 v4, Samsung SSD 960 Pro 1TB m.2 NVMe

Nvidia GeForce GTX 1080 Ti Founders Edition Asus Crosshair VI Hero


GeForce GTX 1080 Ti, R7 1800X, Intel SSD 600p SSDPEKKW512G7

MSI GP62 7REX-1045US


GeForce GTX 1050 Ti Mobile, i7-7700HQ, Toshiba NVMe THNSN5128GP

Copy Program MB/s
i7-7740X Asus X299 Prime


GeForce GTX 1080 Ti, i7-7740X, Intel Optane 32 GB MEMPEK1W032GA

873

(360min - 873max) MB/s

∼100%

Eurocom Tornado F5


GeForce GTX 1070 Mobile, i7-7700K, Samsung SSD 960 Pro 512 GB m.2

Nvidia GeForce GTX 1080 Ti Founders Edition Asus Crosshair VI Hero


GeForce GTX 1080 Ti, R7 1800X, Intel SSD 600p SSDPEKKW512G7

Samsung 960 Pro 1TB


Titan X Pascal, E5-2680 v4, Samsung SSD 960 Pro 1TB m.2 NVMe

MSI GP62 7REX-1045US


GeForce GTX 1050 Ti Mobile, i7-7700HQ, Toshiba NVMe THNSN5128GP

Copy ISO MB/s
Eurocom Tornado F5


GeForce GTX 1070 Mobile, i7-7700K, Samsung SSD 960 Pro 512 GB m.2

Samsung 960 Pro 1TB


Titan X Pascal, E5-2680 v4, Samsung SSD 960 Pro 1TB m.2 NVMe

i7-7740X Asus X299 Prime


GeForce GTX 1080 Ti, i7-7740X, Intel Optane 32 GB MEMPEK1W032GA

MSI GP62 7REX-1045US


GeForce GTX 1050 Ti Mobile, i7-7700HQ, Toshiba NVMe THNSN5128GP

Nvidia GeForce GTX 1080 Ti Founders Edition Asus Crosshair VI Hero


GeForce GTX 1080 Ti, R7 1800X, Intel SSD 600p SSDPEKKW512G7

Score Total
Samsung 960 Pro 1TB


Titan X Pascal, E5-2680 v4, Samsung SSD 960 Pro 1TB m.2 NVMe

Saelic Veni G422 G7TPK4


GeForce GTX 1050 Ti Mobile, i7-7700HQ, Samsung PM961 NVMe MZVLW512HMJP

Eurocom Tornado F5


GeForce GTX 1070 Mobile, i7-7700K, Samsung SSD 960 Pro 512 GB m.2

i7-7740X Asus X299 Prime


GeForce GTX 1080 Ti, i7-7740X, Intel Optane 32 GB MEMPEK1W032GA

MSI GP62 7REX-1045US


GeForce GTX 1050 Ti Mobile, i7-7700HQ, Toshiba NVMe THNSN5128GP

Nvidia GeForce GTX 1080 Ti Founders Edition Asus Crosshair VI Hero


GeForce GTX 1080 Ti, R7 1800X, Intel SSD 600p SSDPEKKW512G7

Score Write
Eurocom Tornado F5


GeForce GTX 1070 Mobile, i7-7700K, Samsung SSD 960 Pro 512 GB m.2

Saelic Veni G422 G7TPK4


GeForce GTX 1050 Ti Mobile, i7-7700HQ, Samsung PM961 NVMe MZVLW512HMJP

Samsung 960 Pro 1TB


Titan X Pascal, E5-2680 v4, Samsung SSD 960 Pro 1TB m.2 NVMe

MSI GP62 7REX-1045US


GeForce GTX 1050 Ti Mobile, i7-7700HQ, Toshiba NVMe THNSN5128GP

Nvidia GeForce GTX 1080 Ti Founders Edition Asus Crosshair VI Hero


GeForce GTX 1080 Ti, R7 1800X, Intel SSD 600p SSDPEKKW512G7

i7-7740X Asus X299 Prime


GeForce GTX 1080 Ti, i7-7740X, Intel Optane 32 GB MEMPEK1W032GA

Score Read
Samsung 960 Pro 1TB


Titan X Pascal, E5-2680 v4, Samsung SSD 960 Pro 1TB m.2 NVMe

Saelic Veni G422 G7TPK4


GeForce GTX 1050 Ti Mobile, i7-7700HQ, Samsung PM961 NVMe MZVLW512HMJP

i7-7740X Asus X299 Prime


GeForce GTX 1080 Ti, i7-7740X, Intel Optane 32 GB MEMPEK1W032GA

Eurocom Tornado F5


GeForce GTX 1070 Mobile, i7-7700K, Samsung SSD 960 Pro 512 GB m.2

MSI GP62 7REX-1045US


GeForce GTX 1050 Ti Mobile, i7-7700HQ, Toshiba NVMe THNSN5128GP

Nvidia GeForce GTX 1080 Ti Founders Edition Asus Crosshair VI Hero


GeForce GTX 1080 Ti, R7 1800X, Intel SSD 600p SSDPEKKW512G7

Access Time Write
Samsung 960 Pro 1TB


Titan X Pascal, E5-2680 v4, Samsung SSD 960 Pro 1TB m.2 NVMe

Nvidia GeForce GTX 1080 Ti Founders Edition Asus Crosshair VI Hero


GeForce GTX 1080 Ti, R7 1800X, Intel SSD 600p SSDPEKKW512G7

MSI GP62 7REX-1045US


GeForce GTX 1050 Ti Mobile, i7-7700HQ, Toshiba NVMe THNSN5128GP

Saelic Veni G422 G7TPK4


GeForce GTX 1050 Ti Mobile, i7-7700HQ, Samsung PM961 NVMe MZVLW512HMJP

Eurocom Tornado F5


GeForce GTX 1070 Mobile, i7-7700K, Samsung SSD 960 Pro 512 GB m.2

i7-7740X Asus X299 Prime


GeForce GTX 1080 Ti, i7-7740X, Intel Optane 32 GB MEMPEK1W032GA

Access Time Read
MSI GP62 7REX-1045US


GeForce GTX 1050 Ti Mobile, i7-7700HQ, Toshiba NVMe THNSN5128GP

Nvidia GeForce GTX 1080 Ti Founders Edition Asus Crosshair VI Hero


GeForce GTX 1080 Ti, R7 1800X, Intel SSD 600p SSDPEKKW512G7

Samsung 960 Pro 1TB


Titan X Pascal, E5-2680 v4, Samsung SSD 960 Pro 1TB m.2 NVMe

Saelic Veni G422 G7TPK4


GeForce GTX 1050 Ti Mobile, i7-7700HQ, Samsung PM961 NVMe MZVLW512HMJP

Eurocom Tornado F5


GeForce GTX 1070 Mobile, i7-7700K, Samsung SSD 960 Pro 512 GB m.2

i7-7740X Asus X299 Prime


GeForce GTX 1080 Ti, i7-7740X, Intel Optane 32 GB MEMPEK1W032GA

4K-64 Write
Eurocom Tornado F5


GeForce GTX 1070 Mobile, i7-7700K, Samsung SSD 960 Pro 512 GB m.2

Saelic Veni G422 G7TPK4


GeForce GTX 1050 Ti Mobile, i7-7700HQ, Samsung PM961 NVMe MZVLW512HMJP

Samsung 960 Pro 1TB


Titan X Pascal, E5-2680 v4, Samsung SSD 960 Pro 1TB m.2 NVMe

Nvidia GeForce GTX 1080 Ti Founders Edition Asus Crosshair VI Hero


GeForce GTX 1080 Ti, R7 1800X, Intel SSD 600p SSDPEKKW512G7

MSI GP62 7REX-1045US


GeForce GTX 1050 Ti Mobile, i7-7700HQ, Toshiba NVMe THNSN5128GP

i7-7740X Asus X299 Prime


GeForce GTX 1080 Ti, i7-7740X, Intel Optane 32 GB MEMPEK1W032GA

4K-64 Read
Samsung 960 Pro 1TB


Titan X Pascal, E5-2680 v4, Samsung SSD 960 Pro 1TB m.2 NVMe

Saelic Veni G422 G7TPK4


GeForce GTX 1050 Ti Mobile, i7-7700HQ, Samsung PM961 NVMe MZVLW512HMJP

i7-7740X Asus X299 Prime


GeForce GTX 1080 Ti, i7-7740X, Intel Optane 32 GB MEMPEK1W032GA

Eurocom Tornado F5


GeForce GTX 1070 Mobile, i7-7700K, Samsung SSD 960 Pro 512 GB m.2

MSI GP62 7REX-1045US


GeForce GTX 1050 Ti Mobile, i7-7700HQ, Toshiba NVMe THNSN5128GP

Nvidia GeForce GTX 1080 Ti Founders Edition Asus Crosshair VI Hero


GeForce GTX 1080 Ti, R7 1800X, Intel SSD 600p SSDPEKKW512G7

4K Write
i7-7740X Asus X299 Prime


GeForce GTX 1080 Ti, i7-7740X, Intel Optane 32 GB MEMPEK1W032GA

Eurocom Tornado F5


GeForce GTX 1070 Mobile, i7-7700K, Samsung SSD 960 Pro 512 GB m.2

Saelic Veni G422 G7TPK4


GeForce GTX 1050 Ti Mobile, i7-7700HQ, Samsung PM961 NVMe MZVLW512HMJP

MSI GP62 7REX-1045US


GeForce GTX 1050 Ti Mobile, i7-7700HQ, Toshiba NVMe THNSN5128GP

Nvidia GeForce GTX 1080 Ti Founders Edition Asus Crosshair VI Hero


GeForce GTX 1080 Ti, R7 1800X, Intel SSD 600p SSDPEKKW512G7

Samsung 960 Pro 1TB


Titan X Pascal, E5-2680 v4, Samsung SSD 960 Pro 1TB m.2 NVMe

4K Read
i7-7740X Asus X299 Prime


GeForce GTX 1080 Ti, i7-7740X, Intel Optane 32 GB MEMPEK1W032GA

Saelic Veni G422 G7TPK4


GeForce GTX 1050 Ti Mobile, i7-7700HQ, Samsung PM961 NVMe MZVLW512HMJP

Eurocom Tornado F5


GeForce GTX 1070 Mobile, i7-7700K, Samsung SSD 960 Pro 512 GB m.2

MSI GP62 7REX-1045US


GeForce GTX 1050 Ti Mobile, i7-7700HQ, Toshiba NVMe THNSN5128GP

Samsung 960 Pro 1TB


Titan X Pascal, E5-2680 v4, Samsung SSD 960 Pro 1TB m.2 NVMe

Nvidia GeForce GTX 1080 Ti Founders Edition Asus Crosshair VI Hero


GeForce GTX 1080 Ti, R7 1800X, Intel SSD 600p SSDPEKKW512G7

Seq Write
Samsung 960 Pro 1TB


Titan X Pascal, E5-2680 v4, Samsung SSD 960 Pro 1TB m.2 NVMe

Eurocom Tornado F5


GeForce GTX 1070 Mobile, i7-7700K, Samsung SSD 960 Pro 512 GB m.2

Saelic Veni G422 G7TPK4


GeForce GTX 1050 Ti Mobile, i7-7700HQ, Samsung PM961 NVMe MZVLW512HMJP

MSI GP62 7REX-1045US


GeForce GTX 1050 Ti Mobile, i7-7700HQ, Toshiba NVMe THNSN5128GP

Nvidia GeForce GTX 1080 Ti Founders Edition Asus Crosshair VI Hero


GeForce GTX 1080 Ti, R7 1800X, Intel SSD 600p SSDPEKKW512G7

i7-7740X Asus X299 Prime


GeForce GTX 1080 Ti, i7-7740X, Intel Optane 32 GB MEMPEK1W032GA

Seq Read
Eurocom Tornado F5


GeForce GTX 1070 Mobile, i7-7700K, Samsung SSD 960 Pro 512 GB m.2

Samsung 960 Pro 1TB


Titan X Pascal, E5-2680 v4, Samsung SSD 960 Pro 1TB m.2 NVMe

Saelic Veni G422 G7TPK4


GeForce GTX 1050 Ti Mobile, i7-7700HQ, Samsung PM961 NVMe MZVLW512HMJP

MSI GP62 7REX-1045US


GeForce GTX 1050 Ti Mobile, i7-7700HQ, Toshiba NVMe THNSN5128GP

Nvidia GeForce GTX 1080 Ti Founders Edition Asus Crosshair VI Hero


GeForce GTX 1080 Ti, R7 1800X, Intel SSD 600p SSDPEKKW512G7

i7-7740X Asus X299 Prime


GeForce GTX 1080 Ti, i7-7740X, Intel Optane 32 GB MEMPEK1W032GA
CrystalDiskMark 3.0
Write 4k QD32
Eurocom Tornado F5


GeForce GTX 1070 Mobile, i7-7700K, Samsung SSD 960 Pro 512 GB m.2

Saelic Veni G422 G7TPK4


GeForce GTX 1050 Ti Mobile, i7-7700HQ, Samsung PM961 NVMe MZVLW512HMJP

Samsung 960 Pro 1TB


Titan X Pascal, E5-2680 v4, Samsung SSD 960 Pro 1TB m.2 NVMe

i7-7740X Asus X299 Prime


GeForce GTX 1080 Ti, i7-7740X, Intel Optane 32 GB MEMPEK1W032GA

Nvidia GeForce GTX 1080 Ti Founders Edition Asus Crosshair VI Hero


GeForce GTX 1080 Ti, R7 1800X, Intel SSD 600p SSDPEKKW512G7

Read 4k QD32
i7-7740X Asus X299 Prime


GeForce GTX 1080 Ti, i7-7740X, Intel Optane 32 GB MEMPEK1W032GA

Eurocom Tornado F5


GeForce GTX 1070 Mobile, i7-7700K, Samsung SSD 960 Pro 512 GB m.2

Saelic Veni G422 G7TPK4


GeForce GTX 1050 Ti Mobile, i7-7700HQ, Samsung PM961 NVMe MZVLW512HMJP

Samsung 960 Pro 1TB


Titan X Pascal, E5-2680 v4, Samsung SSD 960 Pro 1TB m.2 NVMe

Nvidia GeForce GTX 1080 Ti Founders Edition Asus Crosshair VI Hero


GeForce GTX 1080 Ti, R7 1800X, Intel SSD 600p SSDPEKKW512G7

Write 4k
Eurocom Tornado F5


GeForce GTX 1070 Mobile, i7-7700K, Samsung SSD 960 Pro 512 GB m.2

i7-7740X Asus X299 Prime


GeForce GTX 1080 Ti, i7-7740X, Intel Optane 32 GB MEMPEK1W032GA

Saelic Veni G422 G7TPK4


GeForce GTX 1050 Ti Mobile, i7-7700HQ, Samsung PM961 NVMe MZVLW512HMJP

Nvidia GeForce GTX 1080 Ti Founders Edition Asus Crosshair VI Hero


GeForce GTX 1080 Ti, R7 1800X, Intel SSD 600p SSDPEKKW512G7

Samsung 960 Pro 1TB


Titan X Pascal, E5-2680 v4, Samsung SSD 960 Pro 1TB m.2 NVMe

Read 4k
i7-7740X Asus X299 Prime


GeForce GTX 1080 Ti, i7-7740X, Intel Optane 32 GB MEMPEK1W032GA

Saelic Veni G422 G7TPK4


GeForce GTX 1050 Ti Mobile, i7-7700HQ, Samsung PM961 NVMe MZVLW512HMJP

Eurocom Tornado F5


GeForce GTX 1070 Mobile, i7-7700K, Samsung SSD 960 Pro 512 GB m.2

Samsung 960 Pro 1TB


Titan X Pascal, E5-2680 v4, Samsung SSD 960 Pro 1TB m.2 NVMe

Nvidia GeForce GTX 1080 Ti Founders Edition Asus Crosshair VI Hero


GeForce GTX 1080 Ti, R7 1800X, Intel SSD 600p SSDPEKKW512G7

Write 512
Samsung 960 Pro 1TB


Titan X Pascal, E5-2680 v4, Samsung SSD 960 Pro 1TB m.2 NVMe

Saelic Veni G422 G7TPK4


GeForce GTX 1050 Ti Mobile, i7-7700HQ, Samsung PM961 NVMe MZVLW512HMJP

Eurocom Tornado F5


GeForce GTX 1070 Mobile, i7-7700K, Samsung SSD 960 Pro 512 GB m.2

Nvidia GeForce GTX 1080 Ti Founders Edition Asus Crosshair VI Hero


GeForce GTX 1080 Ti, R7 1800X, Intel SSD 600p SSDPEKKW512G7

i7-7740X Asus X299 Prime


GeForce GTX 1080 Ti, i7-7740X, Intel Optane 32 GB MEMPEK1W032GA

Read 512
i7-7740X Asus X299 Prime


GeForce GTX 1080 Ti, i7-7740X, Intel Optane 32 GB MEMPEK1W032GA

Samsung 960 Pro 1TB


Titan X Pascal, E5-2680 v4, Samsung SSD 960 Pro 1TB m.2 NVMe

Saelic Veni G422 G7TPK4


GeForce GTX 1050 Ti Mobile, i7-7700HQ, Samsung PM961 NVMe MZVLW512HMJP

Nvidia GeForce GTX 1080 Ti Founders Edition Asus Crosshair VI Hero


GeForce GTX 1080 Ti, R7 1800X, Intel SSD 600p SSDPEKKW512G7

Eurocom Tornado F5


GeForce GTX 1070 Mobile, i7-7700K, Samsung SSD 960 Pro 512 GB m.2

Write Seq
Samsung 960 Pro 1TB


Titan X Pascal, E5-2680 v4, Samsung SSD 960 Pro 1TB m.2 NVMe

Eurocom Tornado F5


GeForce GTX 1070 Mobile, i7-7700K, Samsung SSD 960 Pro 512 GB m.2

Saelic Veni G422 G7TPK4


GeForce GTX 1050 Ti Mobile, i7-7700HQ, Samsung PM961 NVMe MZVLW512HMJP

Nvidia GeForce GTX 1080 Ti Founders Edition Asus Crosshair VI Hero


GeForce GTX 1080 Ti, R7 1800X, Intel SSD 600p SSDPEKKW512G7

i7-7740X Asus X299 Prime


GeForce GTX 1080 Ti, i7-7740X, Intel Optane 32 GB MEMPEK1W032GA

Read Seq
Samsung 960 Pro 1TB


Titan X Pascal, E5-2680 v4, Samsung SSD 960 Pro 1TB m.2 NVMe

Eurocom Tornado F5


GeForce GTX 1070 Mobile, i7-7700K, Samsung SSD 960 Pro 512 GB m.2

i7-7740X Asus X299 Prime


GeForce GTX 1080 Ti, i7-7740X, Intel Optane 32 GB MEMPEK1W032GA

Saelic Veni G422 G7TPK4


GeForce GTX 1050 Ti Mobile, i7-7700HQ, Samsung PM961 NVMe MZVLW512HMJP

Nvidia GeForce GTX 1080 Ti Founders Edition Asus Crosshair VI Hero


GeForce GTX 1080 Ti, R7 1800X, Intel SSD 600p SSDPEKKW512G7
CrystalDiskMark 5.2 / 6
Write 4K
i7-7740X Asus X299 Prime


GeForce GTX 1080 Ti, i7-7740X, Intel Optane 32 GB MEMPEK1W032GA

MSI GP62 7REX-1045US


GeForce GTX 1050 Ti Mobile, i7-7700HQ, Toshiba NVMe THNSN5128GP

Nvidia GeForce GTX 1080 Ti Founders Edition Asus Crosshair VI Hero


GeForce GTX 1080 Ti, R7 1800X, Intel SSD 600p SSDPEKKW512G7

Read 4K
i7-7740X Asus X299 Prime


GeForce GTX 1080 Ti, i7-7740X, Intel Optane 32 GB MEMPEK1W032GA

MSI GP62 7REX-1045US


GeForce GTX 1050 Ti Mobile, i7-7700HQ, Toshiba NVMe THNSN5128GP

Nvidia GeForce GTX 1080 Ti Founders Edition Asus Crosshair VI Hero


GeForce GTX 1080 Ti, R7 1800X, Intel SSD 600p SSDPEKKW512G7

Write Seq
MSI GP62 7REX-1045US


GeForce GTX 1050 Ti Mobile, i7-7700HQ, Toshiba NVMe THNSN5128GP

Nvidia GeForce GTX 1080 Ti Founders Edition Asus Crosshair VI Hero


GeForce GTX 1080 Ti, R7 1800X, Intel SSD 600p SSDPEKKW512G7

i7-7740X Asus X299 Prime


GeForce GTX 1080 Ti, i7-7740X, Intel Optane 32 GB MEMPEK1W032GA

Read Seq
MSI GP62 7REX-1045US


GeForce GTX 1050 Ti Mobile, i7-7700HQ, Toshiba NVMe THNSN5128GP

i7-7740X Asus X299 Prime


GeForce GTX 1080 Ti, i7-7740X, Intel Optane 32 GB MEMPEK1W032GA

Nvidia GeForce GTX 1080 Ti Founders Edition Asus Crosshair VI Hero


GeForce GTX 1080 Ti, R7 1800X, Intel SSD 600p SSDPEKKW512G7

Write 4K Q32T1
MSI GP62 7REX-1045US


GeForce GTX 1050 Ti Mobile, i7-7700HQ, Toshiba NVMe THNSN5128GP

i7-7740X Asus X299 Prime


GeForce GTX 1080 Ti, i7-7740X, Intel Optane 32 GB MEMPEK1W032GA

Nvidia GeForce GTX 1080 Ti Founders Edition Asus Crosshair VI Hero


GeForce GTX 1080 Ti, R7 1800X, Intel SSD 600p SSDPEKKW512G7

Read 4K Q32T1
i7-7740X Asus X299 Prime


GeForce GTX 1080 Ti, i7-7740X, Intel Optane 32 GB MEMPEK1W032GA

MSI GP62 7REX-1045US


GeForce GTX 1050 Ti Mobile, i7-7700HQ, Toshiba NVMe THNSN5128GP

Nvidia GeForce GTX 1080 Ti Founders Edition Asus Crosshair VI Hero


GeForce GTX 1080 Ti, R7 1800X, Intel SSD 600p SSDPEKKW512G7

Write Seq Q32T1
MSI GP62 7REX-1045US


GeForce GTX 1050 Ti Mobile, i7-7700HQ, Toshiba NVMe THNSN5128GP

Nvidia GeForce GTX 1080 Ti Founders Edition Asus Crosshair VI Hero


GeForce GTX 1080 Ti, R7 1800X, Intel SSD 600p SSDPEKKW512G7

i7-7740X Asus X299 Prime


GeForce GTX 1080 Ti, i7-7740X, Intel Optane 32 GB MEMPEK1W032GA

Read Seq Q32T1
MSI GP62 7REX-1045US


GeForce GTX 1050 Ti Mobile, i7-7700HQ, Toshiba NVMe THNSN5128GP

Nvidia GeForce GTX 1080 Ti Founders Edition Asus Crosshair VI Hero


GeForce GTX 1080 Ti, R7 1800X, Intel SSD 600p SSDPEKKW512G7

i7-7740X Asus X299 Prime


GeForce GTX 1080 Ti, i7-7740X, Intel Optane 32 GB MEMPEK1W032GA
PCMark 8
Storage Score v2
Eurocom Tornado F5


GeForce GTX 1070 Mobile, i7-7700K, Samsung SSD 960 Pro 512 GB m.2

Samsung 960 Pro 1TB


Titan X Pascal, E5-2680 v4, Samsung SSD 960 Pro 1TB m.2 NVMe

i7-7740X Asus X299 Prime


GeForce GTX 1080 Ti, i7-7740X, Intel Optane 32 GB MEMPEK1W032GA

MSI GP62 7REX-1045US


GeForce GTX 1050 Ti Mobile, i7-7700HQ, Toshiba NVMe THNSN5128GP

Nvidia GeForce GTX 1080 Ti Founders Edition Asus Crosshair VI Hero


GeForce GTX 1080 Ti, R7 1800X, Intel SSD 600p SSDPEKKW512G7

Work Score Accelerated v2
Eurocom Tornado F5


GeForce GTX 1070 Mobile, i7-7700K, Samsung SSD 960 Pro 512 GB m.2

MSI GP62 7REX-1045US


GeForce GTX 1050 Ti Mobile, i7-7700HQ, Toshiba NVMe THNSN5128GP

Creative Score Accelerated v2
Eurocom Tornado F5


GeForce GTX 1070 Mobile, i7-7700K, Samsung SSD 960 Pro 512 GB m.2

MSI GP62 7REX-1045US


GeForce GTX 1050 Ti Mobile, i7-7700HQ, Toshiba NVMe THNSN5128GP

Home Score Accelerated v2
Eurocom Tornado F5


GeForce GTX 1070 Mobile, i7-7700K, Samsung SSD 960 Pro 512 GB m.2

MSI GP62 7REX-1045US


GeForce GTX 1050 Ti Mobile, i7-7700HQ, Toshiba NVMe THNSN5128GP
* ... smaller is better