SK Hynix announces 8GB LPDDR4X DRAM for phones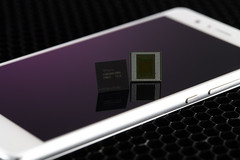 Semiconductor company SK Hynix has announced the release of 8 GB LPDDR4X DRAM, made possible through high-density 16Gb chips. The DRAM is 30% smaller and 20% more power efficient than current LPDDR4.
As of today, most smartphones have 2, 3, or perhaps 4 GB of RAM, with the average capacity of high-end phones at 3.5 GB—but phones with 8 GB may soon become commonplace. Yesterday (January 9), South Korean semiconductor company SK Hynix announced the launch of their new 8GB LPDDR4X DRAM.
The new RAM is made possible with high density dual channel 16Gb chips, and should be 20% more energy efficient than previous LPDDR4 DRAM, thus increasing battery life of mobile devices. The press release notes that the DRAM is capable of processing 34.1GB of data per second, uses 64-bit I/O, and is also more than 30% more compact, measuring 12 x 12.7 x <1mm.
While today's smartphones are performing perfectly well with less than half as much DRAM, they are also running highly mobile-optimized operating systems, such as iOS and Android. If handsets start running Windows 10 on Snapdragon CPUs this year as expected, much more memory (4 to 8 GB) would be needed for optimal performance.