Samsung: Galaxy S8 might come with 8 GB of RAM and UFS 2.1 storage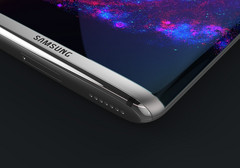 Samsung may put one of its recent 8 GB modules into the Galaxy S8, that are being manufactured using the 10 nm process, a usually quite reliable user on Weibo recently said. Faster UFS 2.1 storage may also be part of the package.
Most analysts have reported, that Samsung will integrate 6 GB of RAM and up to 256 GB of storage into its next flagship device, the Galaxy S8. However, we have also heard reports that say, Samsung may put all it has into the next Galaxy flagship to compensate for the Galaxy Note 7 disaster and win back customers. A recent post by Weibo user "Ice Universe" who tends to be quite good informed about Samsung devices, suggests, that the South Korean company may put their new 8 GB RAM-modules into the Galaxy S8.
Those modules are manufactured using the advanced 10 nm process. SK Hynix recently introduced 8 GB RAM modules as well but still uses the older 21 nm process. In addition to 8 GB of RAM, Ice Universe reports, that Samsung may decide to go with faster UFS 2.1 storage in the Galaxy S8 as opposed to UFS 2.0 memory that is being used in the Galaxy S7. Both of these rumors should be taken with a grain of salt.