Samsung Galaxy S8: Versions up to 6 GB of RAM and 256 GB of storage?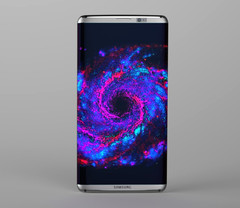 New rumors regarding the Galaxy S8 recently appeared on Chinese Weibo, suggesting that the Galaxy S8 may come in versions up to 6 GB of RAM and 256 GB of storage. Apparently there will be further innovations like a larger display area, an iris scanner and AI-Assistents.
Next year's Galaxy S8 may come with larger storage versions according to rumors currently coming in from China where a popular Weibo user reported that Samsung is planning to release version with up to 6 GB of RAM and 256 GB of fast UFS storage next year. While these rumors should be taken with a grain of salt, it is not entirely unlikely because Apple also offers larger storage versions up to 256 GB and Samsung may want to take advantage of Galaxy Note 7 customers who may want to upgrade to the Galaxy S8 next year after settling for the Galaxy S7 in exchange for the troubled Note 7, they had to return.
Both the smaller and the larger Plus version of the Galaxy S8 will come with a bigger display area and curved edges, according to previous reports. Samsung may opt to integrate the fingerprint sensor beneath the display and integrate the iris scanner from the Galaxy Note 7. The processor inside the Galaxy S8 will be the recently announced Snapdragon 835. There will also be a dual-camera on the back, at least on the plus model. Samsung will also integrate A.I. Assistents into the Galaxy S8 to compete with Google's Assistent. According to the Weibo user who leaked the storage information, the Galaxy S8 will cost approximately 30 percent more to produce, which will most likely be reflected by higher sales prices as well.