BlackBerry: TCL confirms a new BlackBerry device for CES 2017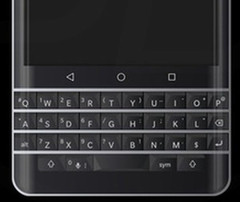 TCL recently confirmed, that they will introduce a new BlackBerry smartphone at CES 2017. According to previous rumors, the most likely candidate is the Mercury phone with QWERTY keyboard, that may be launched under a new name during CES 2017.
After the agreement between Chinese TCL and Canadian BlackBerry to give TCL worldwide rights to sell and market BlackBerry devices, they seem to be on track to release a new BlackBerry smartphone right at CES 2017 in Las Vegas next month. TCL recently announced that new members of the BlackBerry family will join the TCL device portfolio. Most likely we are talking about the rumored Mercury device, that is said to feature a physical QWERTY keyboard and is expected to launch during the first quarter of next year.
According to recent rumors out of China, it might be release with a Snapdragon 821 processor although others have previously suggested the Snapdragon 625 processor instead. The device might feature a slightly curved 4,5 inch display and a fingerprint sensor integrated into the Space key of the keyboard. Battery capacity is said to last for 2 days. We expect to hear more about the new BlackBerry phone early next year.