BlackBerry: All internal hardware-development ceases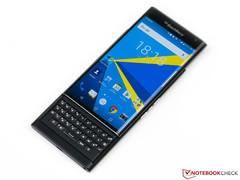 Because of the continuing failure produce any profit, BlackBerry is ceasing all internal hardware-development. All future BlackBerry hardware will be engineered by partners, BlackBerry is going to concentrate on software and security.
It is the end of an era: BlackBerry will cease all internal hardware-development. Once upon a time, BlackBerry (or Research in Motion/RIM, how it was known back then) was one of the pioneers in the smartphone market. But in the last years the company simply couldn´t compete with the dominant forces Apple and Google, and thus became almost irrelevant.
This news comes in form of the latest quarterly numbers. The end of BlackBerry´s own hardware has a little asterisk attached: BlackBerry will still offer smartphones. However, these phones are being developed by partners, not BlackBerry itself. The first fruits of this new strategy are already visible: The DTEK50 is an Alcatel-developed device. The same is true for the just-leaked DTEK60.
BlackBerry itself will concentrate on software and security, offering its partners phones with BlackBerry software and security guarantees.. This way the company tries to establish a niche in the Android space for itself. The name BlackBerry will still be used for new smartphones, but these will be BlackBerry only in name,