Lineage update path for CyanogenMod is planned, more details to follow tomorrow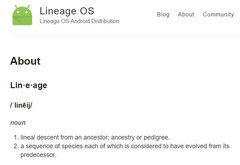 While the CyanogenMod team is busy merging and reviewing code, the Cyanogen website stopped being available via DNS today. Plans to offer a direct upgrade to Lineage from within CyanogenMod are in place.
These are turbulent times for the CyanogenMod team, that decided on December 24th that they will stop the CyanogenMod project dead in its tracks and continue with a fork named Lineage after Cyanogen announced the end of all services related to Cyanogen OS. Today, the old CyanogenMod website, the Wiki and the code-reviewing system Gerrit stopped being available via DNS.
Nevertheless the team launched a new home for their next project Lineage and promised to have more information about the transition up tomorrow. Meanwhile one of the most important questions for CyanogenMod users was answered on Reddit: Yes, there will be a direct upgrade path from within CyanogenMod to Lineage, no reformatting will be necessary.