SSDs and RAM sticks may start getting cheaper and cheaper in 2019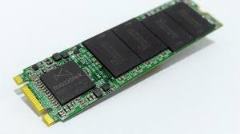 The memory found in typical RAM and storage components - DRAM and NAND respectively - may drop in price, particularly as we move into 2019. This is based on new research by DRAMeXchange. This group claims that prices for this technology has not grown in 2018 Q3 as it normally does.
Working For Notebookcheck
Are you a techie who knows how to write? Then join our Team! Especially English native speakers welcome!
Currently wanted:
News and Editorial Editor - Details here

NAND flash memory and DRAM modules are in increasing decline, according to a new report by DRAMeXCHANGE. The technology, which makes up many RAM sticks and SSDs available today, is now thought to be suffering in terms of both demand and approximate selling points.
Overall, NAND average selling prices (ASPs) are projected to fall by over 30% in 2019. This is thought to be driven by an oversupply of flash modules due to improved production techniques. In addition, contract prices for these modules has fallen by 10% in the current quarter of 2018 (Q3), and may decrease by another 10 to 15% in the next. This applies to 3D TLC NAND as well as older forms of the memory.
Similarly, DRAM contract pricess have grown by only 1 to 2% in this quarter, despite this period usually being the strongest for the modules all year. These prices are thought to drop again by up to 5% in Q4. DRAM ASPs may drop by up to 20% in 2019. This is also attributed to supply trends in the face of low demand; for example, the cutting-edge 1-by-1-nanometer DRAM manufacturing process has been perfected by now.
These downward trends in the prices for both component types is thought to be influenced by reduced demand for consumer electronics that require either NAND or DRAM, particularly servers and smartphones.