Corsair's newest NVMe SSD breaks 3GB read-speed barrier for under US$70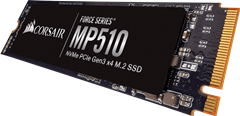 The Force Series™ MP510 is Corsair's latest NVMe M.2 SSD with 3rd-generation x4 PCIe. Even its lowest storage configuration achieves over 3,000 MB in sequential read. Its 960GB model also has this level of write speed. The MP150 line may also start at about US$66.
The Force Series™ MP510 is Corsair's new SSD release. It is a NVMe drive for a M.2 slot with x4 PCIe Gen 3. With 64-layer 256-gigabit TLC 3D NAND from Toshiba for improved density, this new Corsair storage may be prepared to take on its 2018 rivals from the likes of Samsung or WD. It is associated with a sequential read speed that beats the new normal of 3000 MB.
The 240GB SKU of the MP510 series in fact boasts 3,100 MB in terms of read speed. However, the 480GB, 960GB and 1920GB, variants beat it with 3,480 MB in these terms. These SSDs also have a sequential write speed of 1,050 MB, 2,000 MB, 3,000 MB and 2,700 MB respectively. However, the best thing about the new MP150 series may be the price.
These SSDs may start at only US$65.99 for the 240GB version. The next two SKUs have a recommended price of $124.99 and $235.99 respectively, for a collective cost per GB of as little as 25 US cents. The 1920GB variant has also been announced lately, although there is no price guideline for it at present.