Windows 10 on your phone: Dell's interesting concept phone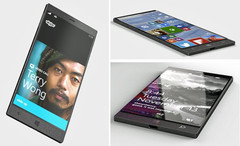 New pictures leaked by Evan Blass reveal a Windows concept phone allegedly created by Dell that is powered by an Intel processor, running ab x86-version of Windows 10. It might never see the light of day.
This phone is different, than most of the other phones Evan Blass has leaked in the past. It does not come with Android or iOS and it does not run on ARM processors. Instead it is powered by an Intel x86 processor and offers an x86 version of Windows 10, that can run basically any app, that is built for Windows. The only problem is, it never existed and it might not see the light of day ever.
Apparently, it was a design concept by Dell, according to Windows expert Paul Thurrott, and similar to what many of us expect a Surface Phone by Microsoft to be like. However, Dell apparently scrapped those plans when Intel decided to kill off its mobile Atom business and stop development of the Sofia and Broxton chips. A phone running x86 processors will be less energy efficient than its ARM counterpart, making it very unlikely that we will see a Windows 10 phone running a full version of the OS any time soon.