Kill the notch: The Samsung Galaxy S10 and the LG G8 rumored to be notch-free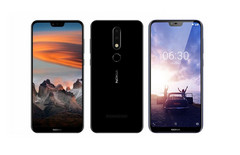 All those Samsung and LG fans who can't live with an ugly notched display might have a reason to celebrate once the next generation flagships come out. The reason is that these two brands are supposedly ready to use "sound-emitting displays" that eliminate the need for a front-facing earpiece.
The main reason for having a notched display instead of one that covers the entire front of a handset — the need to add a front-facing speaker — will soon become a thing of the past. If the rumors turn out to be correct, the Samsung Galaxy S10 and the LG G8 will both come without bezels and without a notch.
TechRadar has recently quoted an article published by South Korean news outlet ETNews which reveals that both Samsung and LG are ready to use "sound-emitting displays" in their next-gen smartphones that are supposed to hit the market in early 2019. This technology has been shown at the latest SID (Society of Information Displays) expo which took place last month.
To make a long story as short as possible, it is enough to say that a sound-emitting display allows the audio from an earpiece to resonate on the display, thus eliminating the need for a cutout. However, the design might still need some room to accommodate a few front-facing sensors, but if the Vivo Apex can look as good as it does, we hope that Samsung and LG can live up to the expectations as well.
Those who missed the Vivo Apex so far should take a look at the movie below - sooner or later, most handsets will look that good and the notch will be nothing more but an ugly memory of a (not so) distant past.