Redmi officially announces its new flagship, the Redmi K20 - Details leaked, could also be the Poco F2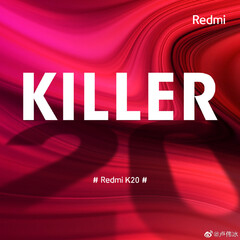 Xiaomi's high-value sub-brand, Redmi, has officially announced its new flagship. The device will be named the Redmi K20, with "K" standing for "killer", perhaps due to how effectively the device is aimed at killing off the competition. Details of the K20 have also surfaced.
For the last three months, fans of Xiaomi have waited with bated breath for the Redmi flagship. There have been numerous rumors so far, and earlier today, the company finally delivered information on the device.
Lu Weibing, General Manager of Redmi, officially announced the name of the device. The device will be called the Redmi K20. Truth be told, we think that's a pretty terrible name, as it's what one would expect from a device made by other less-respected Chinese companies. The "K" is supposed to imply the device being a "killer", keeping in line with the "flagship killer" trend established by the OnePlus One and Poco F1 last year.
Speaking of the Poco F1, some sources believe that the K20 will also double up as the Poco F2. We're not complaining about that, in any case, as rumors of the K20 have been extremely exciting. Last year's Poco F1 was a masterpiece as a result of the extremely high performance to price ratio it offered, and the Redmi K20 looks to be set to follow in that vein.
Here are the touted specifications of the Redmi K20.