Confirmed: the RedmiBook 14 will launch alongside the K20 line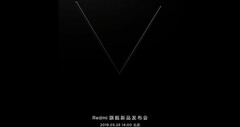 Redmi has announced that its first notebook, most likely to be a 14-inch thin & light model, will be released tomorrow (May 28, 2019). This event will also see the launch of the K20 series of smartphones. The larger device is thought to offer an IPS FHD display with up to 8GB of RAM.
Xiaomi has released numerous laptops in the past; however, its sub-brand Redmi never has. The company has solidified rumors that this is going to change soon. It has announced that we will see its first ever notebook on May 28, 2019. Fans of its phones may also recognize this date as the launch of the new flagship series, the K20s.
Therefore, it seems that these phones (which are now thought to be 2 in number, 1 of which will have a Snapdragon 855 SoC) and the notebook will launch together. The PC in question is to be named the RedmiBook 14, which lends itself as a clue as to what its screen length will be.
The latest indications around this device include theories that it will come in only one color SKU: silver. Hints from Chinese social media also suggest an Intel Core processor for the RedmiBook 14 - however, nothing else is known about its CPU as yet.
However, it is now believed that the notebook could come with between 4 and 8GB of RAM, and have an NVIDIA GeForce MX250 GPU at the highest end. However, we will know all these specs for sure tomorrow.