Computex 2019 | Redesigned MSI GE65 coming with 9th gen Core i9, 240 Hz display, narrow bezels, and Wi-Fi 6 to replace the aging GE63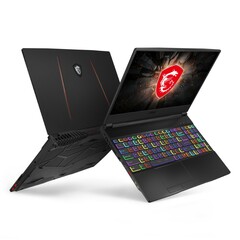 The two-year old GE63 is getting a full-on makeover with a new, thinner chassis based on the 17.3-inch GE75. MSI is promising better ventilation and faster wireless performance with the 802.11ax Killer WLAN. The announcement coincides with the recent reveal of the GT76 flagship.
Computex is MSI's favorite electronics conference as the Taiwanese OEM loves to announce its latest products on the show floor every year. In addition to the flagship 17.3-inch GT76 to replace the GT75, the manufacturer will also be launching the new 15.6-inch GE65 Raider to replace the GE63 Raider.
The GE65 will boast narrow bezels on three sides of the display to be significantly lighter and thinner than the outgoing thick-bezel GE63. Its chassis is essentially the 15.6-inch version of the already available 17.3-inch GE75 unveiled at CES 2019.
Internally, we can expect GeForce RTX graphics, 9th gen Intel CPUs up to the Core i9-9880H, 240 Hz display, and Killer Wi-Fi 6 connectivity. The GE65 will differ from the even thinner and lighter GS65 by its faster Core i9 CPU and standard non-Max-Q RTX GPU options.
It's still too early to confirm specs, launch dates, and prices at the moment and we will update this page with more details once we receive them.