OPPO announces an Android 10 beta program for the Find X and R17 series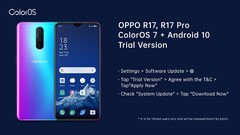 OPPO has announced new beta programs to help bring the latest version of Color OS (based on Android 10) to some of its 2018 phones. These are the flagship Find X, the R17 and its Pro variant. Places in these programs are available to users in certain regions only, however.
Compared to some other Android OEMs, OPPO could be said to be falling behind a little in updating its older phones to the latest software version. However, it has addressed that with a list of these that will receive a build of ColorOS 7, its latest OS skin. Now, its 2018 flagship and premium mid-rangers have joined this party.
They are the innovative slider-phone the Find X, as well as the fore-runners to the Reno series, the R17 and R17 Pro. OPPO has invited users to download an up-to-date beta onto their devices. However, there are some caveats to this prospect.
The Find X's program is open to its users that are in India or Indonesia. Similarly, those wishing to install the R17 Pro beta would be best served to be located in India, Indonesia and Thailand, whereas interested R17 users need to be in India or Australia.
Furthermore, there are only 2000 slots for this ColorOS 7 closed beta per device. These builds also exist for some 2019 devices, as well as the F11 series. They will probably be followed by others of the Reno series, one of the best deals for which in a possibly relevant market is the 8/128GB Z for AU$383.15 on Amazon.