MIUI 11 code offers further evidence that the Xiaomi Redmi K30 Pro will become the POCO F2 for the Indian market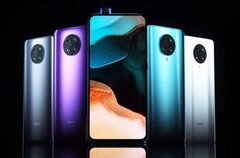 Decompiled MIUI 11 code has strengthened the rumor that the Xiaomi Redmi K30 Pro smartphone will end up on the Indian market as the long-awaited POCO F2. If the code has been interpreted accurately, then Indian POCO fans will be in for a treat with the successor to the POCO F1, thanks to the presence of a Qualcomm Snapdragon 865 SoC and a 6.67-in AMOLED panel.
Some excellent detective work by an XDA Junior Member called kacskrz has revealed the potential of the just-released Redmi K30 Pro turning up on the Indian market as the POCO F2. The rumor of this actually happening has been floating around for a while, partially based on the fact that the Redmi K30 was rebranded as the POCO X2 for that particular market.
While digging around in the camera app code in Xiaomi's MIUI 11, kacskrz discovered clues that point to the POCO F2 smartphone finally seeing the light of day. In an uncomplicated nutshell, the codename for the Xiaomi Redmi K30 Pro is "imi" and there was a reference found to a device called "imiin" – so it seems logical to deduce that this is an Indian variant of the "imi" (the Redmi K30 Pro). Further stoking the fire of an upcoming POCO F2 release is that deeper code-digging from XDA Developers resulted in the discovery of a watermark labeled "SHOT ON POCO PHONE" for images taken by the "imiin" device.
The evidence certainly does seem to point to the Redmi K30 Pro eventually making it on to the Indian market as the POCO F2. Xiaomi is obviously involved in both brands and is clearly focused on world domination at least in terms of smartphone shipments. If the Xiaomi Redmi K30 Pro does become the POCO F2 then Indian consumers should be in for a treat as the smartphone has already been attracting attention because of its fantastic hardware and reasonable price point. A Q2 2020 potential launch for the POCO F2 has already been suggested.