LG rebrands the G6 as the G6 ThinQ but it's just a nominal change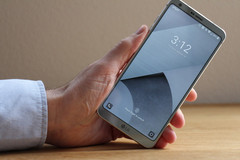 LG is apparently now selling its older devices like the G6 and V30 with a ThinQ branding. Quite amusingly, the ThinQ-branded devices are exactly the same as they were at launch—there is nothing to differentiate them from the regular model.
LG unveiled its first ThinQ-branded device in the form of the V30S ThinQ earlier this year. Since then, the company has released the G7 ThinQ, and is set to follow it up in the coming months with the V35 ThinQ. Apparently, that isn't as far as it goes, as LG listings online have started rebranding older devices with the ThinQ moniker.
Going by the source, the company is now selling its last-gen flagship, the G6, as the G6 ThinQ. There are two problems with that. First, the G6 was released a whole year before the company unveiled its first ThinQ-branded smartphone. Second is the fact that the "G6 ThinQ" is apparently the exact same thing as the normal G6. It's pretty much just a nominal change.
LG's ThinQ is the company's new artificial intelligence program, so that begs the question why older devices are being rebranded that way. Or are the devices shipped with ThinQ-equipped software? Knowing LG's reputation with the non-tangible aspect of computer technology, we'd guess not. The company appears to be trying to push the ThinQ brand as much as possible. How successful that will turn out to be, remains to be seen.