Is Wear OS in trouble? About 88% of smartwatches sold in 2018 ran proprietary software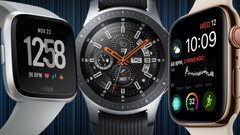 A new report from the NBD Group shows that smartwatch sales in the US increased by 51% from November 2017 to November 2018. Wear OS only accounted for a maximum of 12% of all of these wearables sold. The rest of the sales were those from the top 3 in this market: Apple, Fitbit and Samsung.
Smartwatch sales have exhibited convincing strength as of late. The most recent report on the subject, compliled by the NBD Group, claims that US smartwatch sales in the 12 months since November 2017 added up to about US$5 billion. This was equivalent to a 51% increase in sales compared to the previous year. The total unit sales were also increased by 61%.
This may sound like good news for Google, which distrbutes the Wear OS installed on the watches made by many Android OEMs - as well as the emerging contender Mobvoi - by default. However, the group's report also found that the models made by Apple, Fitbit and Samsung accounted for 88% of the smartwatches sold in the year studied. In addition, NBD also reported that emerging brands such as Fossil and Garmin demonstrated an increased ability to cut into the remaining 12% that year. Fossil may use Wear OS, whereas Garmin may not.
In another worrying twist for Google, Huawei has also just released its Watch GT. This fitness watch is powered by LiteOS, the OEM's new in-house OS. Therefore, together with Tizen and watchOS, proprietary wearable ROMs could reduce Wear OS' market share even further in the future. However, Google could fix this to some degree by ensuring that all older smartwatches out there are kept updated in the future.