Louis Vuitton has updated its smartwatch with the Snapdragon Wear 3100 processor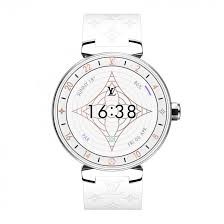 The Snapdragon Wear 3100 release event included announcements that Louis Vuitton would be one of the first OEMs to launch a smartwatch including this next-gen processor. It seems the fashion house has finally delivered with a new version of its Tambour Horizon device. This model may have improved battery life and ambient mode features.
Qualcomm had announced partnerships with high-end smartwatch OEMs, which included Fossil and Mont Blanc, who would have the first opportunities to integrate the new, feature-packed wearables processor, the Wear 3100, into their devices. Louis Vuitton was also among these companies. Accordingly, it has launched the Tambour Horizon for 2019 based on this chipset.
This smartwatch appears not to deviate from the previous version in other ways, however. The official website for this product is low on information regarding its actual specs and features. However, it appears to retain the 24-hour bezel design from last year, and with its brand-specific watchfaces and 'mini-apps' pre-installed. In addition, the Snapdragon Wear 3100 may help extend its battery life to as much as one week, or even longer if the watch is used to display time information only.
The Louis Vuitton website was also low on pricing and availability information for the new Tambour Horizon line-up. However, judging from last year, its cost may be in the region of US$2490.