Qualcomm Snapdragon Wear 3100-powered Montblanc Summit 2 smartwatch now official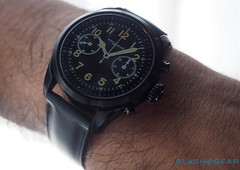 The new Montblanc Summit smartwatch is scheduled to arrive in October, and what we already know is that it uses a Qualcomm Snapdragon Wear 3100 SoC. Unfortunately, most other details — including its price — have yet to be revealed, but it will probably cost more than US$1,500 (the launch price of the model currently on the market).
Those who are looking for a luxury smartwatch might want to wait until October since the second-generation Montblanc Summit has just been uncovered and it sports a Qualcomm Snapdragon Wear 3100 SoC.
According to Qualcomm, the aforementioned chipset allows for improved autonomy, providing improved NFC and a GPS version with enhanced battery-saving capabilities. When compared to other similar wearables, the Montblanc Summit 2 uses 67 percent less power in ambient mode, an improvement that leads to 4 to 12 hours of additional autonomy.
Sadly, there is no information about other technical details, but — in addition to the above — the Snapdragon Wear 3100 also features 4G LTE connectivity. Other than that, we should get ready for a luxury wearable made using premium materials and a price to match. Since the Montblanc Summit launched with a price tag of US$1,500, we can only hope that its successor will not go above the US$2,000 mark, but this is something that we will discover next month. However, those who still want to grab the original can get it right now for less than US$1,000.