Latest report shows 1 in every 3 smartwatches sold in 2019 so far was an Apple Watch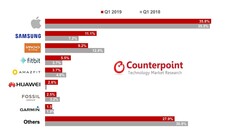 Counterpoint Research's latest data on the smartwatch market indicates that 48% more of these products were shipped in 2019's first quarter (1Q2019) compared to that of 2018. Apple still has a considerable majority in these terms. This may have something to do with the ECG functionality of its fourth-gen Watch.
Shipments in the smartwatch market exhibited a 48% year-on-year (YoY) growth in the first quarter of 2019 (1Q2019), according to Counterpoint Research. The Apple Watch series apparently dominates this space with a 35.8% share (changed little from 35.5% in 1Q2018). However, Samsung grew its share to 11% (or by 127% YoY) in the same time-frame.
Fitbit, Huawei and the brand imoo also drove the smartwatch market in 1Q2019. Huawei's success in this report was attributed to the Watch GT, its latest, sports-focused wearable. However, Counterpoint also found that the new electrocardiography (ECG) capabilities of the Apple Watch 4 was the market's "most desirable feature" in 1Q2019.
This function has been certified by 20 more national healthcare regulators since its initial approval by the Federal Drug Administration (FDA). Finally, Counterpoint acknowledged that the new possibilities open to smartwatch designers due to the flexible display revolution (as illustrated in the recently-released Nubia Alpha) may start to influence this market by as soon as 2025.