Huawei's next tablet may be a premium device with a punch-hole camera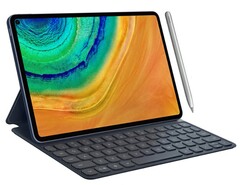 Evan Blass has posted an image of a new tablet with a punch-hole display and a constant, minimal bezel. As this device is shown with what appears to be an M-Pen, it may pertain to a high-end successor to the Huawei MediaPad M6. The leaker has compounded this idea by calling it a "MatePad Pro".
The well-regarded leaker Evan Blass has posted a new image of a novel tablet to Twitter. This device has been named as a MatePad Pro by the tipster: a combination of branding terms that suggest a premium nature in the large-screen device. Then again, it has a punch-hole display, something its putative maker Huawei has left out of its new high-end smartphones, the Mate 30 and 30 Pro.
The new "MatePad" is shown with a compatible keyboard stand, not to mention a stylus that looks suspiciously like a Huawei M-Pen for slate-like devices. This has led to speculation that the device is a successor for the recently-released MediaPad M6.
Should evleaks keep his track record going with this prospective device, it will be interesting to see which OS the new tablet turns out with. Perhaps Huawei will be back to licensing Google Mobile Services by then, which may mean a version of conventional EMUI 10 optimized for this form-factor.
Alternatively, this version of Android could be released with the OEM's own in-house Mobile Services instead - then again, Harmony OS is also now an option, of course.