Costly Nintendo Switch 2 dev kit solution offered by YouTuber as Nintendo executive has observers jumping through extrapolation hoops for next-gen Switch clues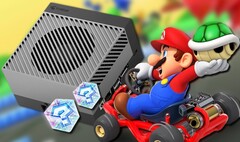 Fans are still waiting on tenterhooks for Nintendo to reveal news about a next-gen Switch console, with leaks and rumors about the Switch 2/Switch Pro/Super Nintendo Switch having been around for years now. With expectations reaching feverish proportions, one YouTuber has decided to offer their solution for a Nintendo Switch 2 dev kit: Use an Nvidia Jetson AGX Orin development kit. Unfortunately, these impressive pieces of hardware cost about US$2,000, depending on where you shop, and their potential utilization as an alternative Switch 2 dev kit is based on quite a bit of conjecture and rumor.
It has long been believed that an Nvidia Tegra SoC would find its way into a next-gen Switch, with known leaker kopite7kimi stating back in 2021 that a customized T239 would be used in the Switch's successor. More information about an 8-core T239 was served up in 2022, and there is even a reference to it in Nvidia's own documentation: "Each file's name typically incorporates its processor name (t194, t234, or t239)". These parts are linked to Nvidia's Orin architecture, which is why a Jetson AGX Orin development kit could arguably play the role of a Switch 2 dev kit. But those seeing "Nintendo" in the module names like "Jetson Orin NX 16 GB" should be aware that NX stands for "Nano Xavier" here and is nothing to do with the original Switch prototype, the Nintendo NX.
While those with around US$2,000 to spare might want to pick up a Switch 2 dev kit alternative and try to create Link's latest adventure on it, the majority of fans will have to wait for tidbits via media sources, leakers, and the company's own executives. In this case, the wonderfully named Nintendo America president, Doug Bowser, gave a wide-ranging interview to the AP that left numerous sites picking up apparent next-gen Switch clues, which seemed even more convincing when conveniently taken out of context. There have been exclamations of a confirming of the next-gen platform with Nintendo out to "surprise and delight" fans with the capabilities of the potential Switch 2 console.
However, when placed back into context, the results are much more prosaic and unsurprisingly businesslike. Bowser said that "we're entering uncharted territory with the platform" immediately after talking about Nintendo Switch sales and the upcoming "strong lineup" of games. When he said "surprise and delight" he was offering marketing speak about the firm's goal as a whole, "one of the things we look at always is how we can surprise and delight". The only thing he has to mention about a new Switch is that there is, "nothing to announce on any future console or device". Fans will just have to settle for picking up the usual Switch 2 crumbs from leakers and tipsters while Nintendo's officials remain tight-lipped about what is coming.
This is a preliminary picture of T234 in Wikipedia. Very clear.
So why do we always guess?
Nintendo will use a customized one, T239. pic.twitter.com/Qp5Im5udlQ

— kopite7kimi (@kopite7kimi) June 11, 2021
My interest in technology began after I was presented with an Atari 800XL home computer in the mid-1980s. I especially enjoy writing about technological advances, compelling rumors, and intriguing tech-related leaks. I have a degree in International Relations and Strategic Studies and count my family, reading, writing, and travel as the main passions of my life. I have been with Notebookcheck since 2012.