Asus ROG Zephyrus Duo GX551QS with Ryzen 9 5900H and RTX 3080 Mobile Geekbench listing confirms 6,144 CUDA cores and 16 GB VRAM, HP Omen 15 with RTX 3070 Mobile also spotted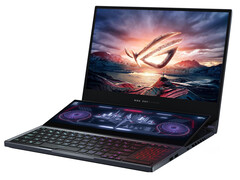 Of late, we have been seeing a steady stream of upcoming gaming laptops featuring NVIDIA RTX 30 Mobile GPUs leak on Geekbench and other benchmarking sites. Now, we are looking at two listings which confirm the CUDA core count and clocks of the RTX 3070 Mobile and RTX 3080 Mobile GPUs.
The first Geekbench listing pertains to the Asus ROG Zephyrus Duo GX551QS. This seems to be an upgrade over last year's ROG Zephyrus Duo 15 GX550LXS, which was powered by the Core i9-10980HK. This year's model looks to be using an 8C/16T Ryzen 9 5900H under the hood. The said Geekbench listing indicates the processor having 3.3 GHz base and 4.54 GHz boost. Interestingly, the Zephyrus Duo GX551QS seems to be endowed with 48 GB of RAM.
Also being evident from this listing is that the GX551QS will feature the NVIDIA GeForce RTX 3080 Mobile with 48 compute units (CUs), 16 GB VRAM, and a 1.54 GHz boost. The clock speed hints that we could be looking at a Max-Q variant.
This also confirms our initial speculation that the RTX 3080 Mobile will feature 6,144 CUDA cores (each CU has 128 CUDA cores), which is essentially the complete GA104 die. For perspective, the desktop RTX 3080 based on the GA102 die has 8,704 CUDA cores and 10 GB of GDDR6X VRAM while the desktop RTX 3070 based on GA104 offers 5,888 CUDA cores and 8 GB GDDR6 memory.
The RTX 3080 Mobile seems to have scored 139,181 points in the Geekebench OpenCL compute test putting it right in the ballpark of an RTX 3070 desktop part.
Up next, we have a listing of the HP Omen 15 gaming laptop powered by the Core i7-10870H. This SKU is shown to sport 16 GB of system RAM along with an RTX 3070 Mobile GPU with 40 CUs (5,120 CUDA cores) and 6 GB VRAM. The boost clock is being indicated as 1.29 GHz, which also points to a likely Max-Q variant.
This HP Omen 15 laptop seems to have scored 101,621 points in the OpenCL compute test making it about 15% faster than an RTX 2080 Max-Q.
NVIDIA is expected to announce mobile versions of the RTX 30 Ampere series during CES 2021. We will also see OEMs announcing new content creator and gaming laptops powered by new AMD Cezanne and Lucienne APUs in combination with Ampere mobile GPUs. We will keep you posted on all these developments, so stay tuned.
Though a cell and molecular biologist by training, I have been drawn towards computers from a very young age ever since I got my first PC in 1998. My passion for technology grew quite exponentially with the times, and it has been an incredible experience from being a much solicited source for tech advice and troubleshooting among family and friends to joining Notebookcheck in 2017 as a professional tech journalist. Now, I am a Lead Editor at Notebookcheck covering news and reviews encompassing a wide gamut of the technology landscape for Indian and global audiences. When I am not hunting for the next big story or taking complex measurements for reviews, you can find me unwinding to a nice read, listening to some soulful music, or trying out a new game.