NVIDIA to offer entry-level RTX features with the GA107 RTX 3050 with 2,304 CUDA cores, upcoming Lenovo Legion R5 desktops to offer RTX 3050, RTX 3050 Ti, and RTX 3060 12 GB options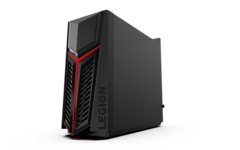 NVIDIA currently offers the RTX 3090, RTX 3080, RTX 3070, and RTX 3060 Ti desktop GPUs with corresponding mobile variants slated to be announced during CES 2021. NVIDIA is expected to introduce RTX 3080 Ti, RTX 3070 Ti, and RTX 3060 12 GB cards as well.
While we've previously seen the RTX 3050 being mentioned in EEC and in AIDA64 Release Notes, we are now getting a confirmation of sorts with the GPU making its way to Lenovo's spec sheets.
This information comes via an entry detailing the Legion R5 28IMB05 desktop PC in the Lenovo PSREF database. The listing indicates several GPU options for the Legion R5 including the RTX 3050 and RTX 3050 Ti among others. The RTX 3060 12 GB version is also being indicated. These GPUs are to be paired with Intel 10th gen Comet Lake-S parts.
From what we we know so far, the RTX 3050 Ti (3,584 CUDA cores and 6 GB GDDR6 VRAM) actually takes the place of the RTX 3060 6 GB (3,840 CUDA cores) though both are based on the GA106 GPU. The RTX 3050 is the only variant currently based on the GA107 part.
The RTX 3050 is expected to sport 2,304 CUDA cores, 4 GB GDDR6 VRAM, and a 128-bit memory bus. The RTX 3060 12 GB and RTX 3050 Ti, on the other hand, will use a 192-bit memory bus.
Apart from the new Ampere GPUs, the Lenovo PSREF entry for the Legion R5 28IMB05 also includes older Turing offerings and also an AMD Radeon RX 5500 option.
NVIDIA will likely unveil GA106 and possibly GA107 parts during CES 2021 alongside several Ampere mobile variants.
Though a cell and molecular biologist by training, I have been drawn towards computers from a very young age ever since I got my first PC in 1998. My passion for technology grew quite exponentially with the times, and it has been an incredible experience from being a much solicited source for tech advice and troubleshooting among family and friends to joining Notebookcheck in 2017 as a professional tech journalist. Now, I am a Lead Editor at Notebookcheck covering news and reviews encompassing a wide gamut of the technology landscape for Indian and global audiences. When I am not hunting for the next big story or taking complex measurements for reviews, you can find me unwinding to a nice read, listening to some soulful music, or trying out a new game.