Powerful AMD gaming and creator laptops on the anvil: Asus Zephyrus SKUs powered by Ryzen 9 5900HX, Ryzen 9 5900HS and NVIDIA RTX 3080, RTX 3070, RTX 3060 Max-Q, and Quadro RTX 3000 GPUs get listed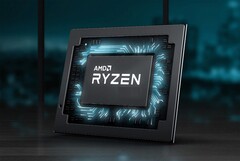 AMD's Zen 3 APUs codenamed Cezanne and Zen 2 APUs codenamed Lucienne are expected to be announced at CES 2021 next month. While we have seen Cezanne and Lucienne listings before, this is the first time we are getting to see a definite laptop SKU that would be powered by them. The new APUs apart, we are also getting to see names of mobile RTX Ampere GPUs alongside them making for a potent combination for mobile gamers and content creators.
Listings of five new Asus ROG Zephyrus laptops powered by Ryzen 5000 Zen 3 APUs and NVIDIA RTX 30 series Ampere mobile GPUs have popped-up on pinnacle.co.za. These configs include:
Ryzen 9 5900HX, 32 GB RAM, 2x 512 GB SSD, and NVIDIA RTX 3070 8 GB graphics
Ryzen 9 5900HS, 16 GB RAM, 1 TB SSD, and NVIDIA RTX 3060 Max-Q
Ryzen 9 5900HX, 32 GB RAM, 1 TB SSD, and NVIDIA RTX 3080
Ryzen 9 4th gen, 16 GB RAM, 1 TB SSD, RTX 2060
Ryzen 7 4th gen, 16 GB RAM, 1 TB SSD, Quadro RTX 3000
Apart from this configs, not much information is available about the laptops themselves. We should be knowing more about AMD Ryzen 4th gen laptops and RTX 3000 mobile as we near CES 2021. Though not entirely clear right now, it could be possible that the HX APUs are likely to be 45 W chips with potential for overclocking compared to the 35 W TDP-limited HS versions. It is interesting to see a Quadro RTX 3000 mentioned as well, which probably indicates an SKU tailored towards mobile professionals.
AMD could be potentially become the staple of a large number of gaming laptops next year well-complemented by Ampere mobile GPUs and even Navi mobile GPUs as well. This is a good trend as Renoir H-series laptops could only offer up to an RTX 2060 in the maximum configuration, which meant conceding the enthusiast mobile gamer space to an Intel Comet Lake-H and NVIDIA combination.
Though a cell and molecular biologist by training, I have been drawn towards computers from a very young age ever since I got my first PC in 1998. My passion for technology grew quite exponentially with the times, and it has been an incredible experience from being a much solicited source for tech advice and troubleshooting among family and friends to joining Notebookcheck in 2017 as a professional tech journalist. Now, I am a Lead Editor at Notebookcheck covering news and reviews encompassing a wide gamut of the technology landscape for Indian and global audiences. When I am not hunting for the next big story or taking complex measurements for reviews, you can find me unwinding to a nice read, listening to some soulful music, or trying out a new game.