Apple iPhone 7: You need this to charge your iPhone 7 while having your headphones plugged in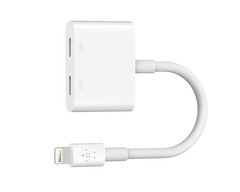 Belkin wants to sell you a $40 adapter to split your Lightning port in two so you can listen to music while charging your iPhone 7 at the same time.
There is one type of people that will certainly love the fact that Apple had the courage to get rid of the audio jack on the iPhone 7. Those are accessory makers of which Apple is one of course and Belkin is another. The latter just revealed a $40 adapter that will be released October 10th and will allow you to charge your iPhone 7 while at the same time listening to either a Lightning headset or one of those ancient headphones with 3,5 mm audio jack which you can connect to the Belkin adapter via the Lightning-to-audio-jack adapter that Apple put in the box with your expensive iPhone 7.
Belkin named their adapter the Lightning Audio + Charge Rockstar and it can also be used for your iPad or older iPhones. It supports up to 24 bit, 48 kHz audio output. Of course this solution is awkward to use, especially in combination with the Apple Lightning-to-audio-jack adapter and it is yet another thing you can loose easily. But Apple really wants you to go completely wireless anyway and recently proposed their new AirPods wireless audio solution for all your listening needs. These of course don't come cheap, plus you need to remember to always keep them charged. Thanks, Apple!