Apple iPhone 7 and 7 Plus: A surfer is testing their water resistance in the ocean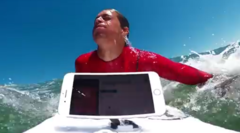 We all know that Apple's iPhone 7 and iPhone 7 Plus are water resistant. But does that make them perfect surf companions? Surfer Kai Lenny took them out to the ocean and compared them with Apple's previous generation.
Official promo videos by Apple already showed us, that the iPhone 7 and iPhone 7 Plus are water resistant, but will they survive a 30 minute ride on the ocean waves? Kai Lenny strapped them to his surfboard and took them out to the Pacific Ocean. Before we can see the results, Kai will show us how Apple' previous generation fared under the same conditions.
Even though Apple's new iPhones are officially rated IP 67, meaning they can survive up to 30 minutes in up to 1 meter of water, Apple will not cover any water damage under warranty. They will replace your iPhone 7 and iPhone 7 Plus if you bought the extra Apple Care+ package together with your iPhone but it will be a limited exchange twice during a two year period and you will have to pay a service fee of $99 each time you take advantage of that service. So take good care of your expensive iPhones and don't loose them to the waves!