Google Maps will show if your compass is uncalibrated on Android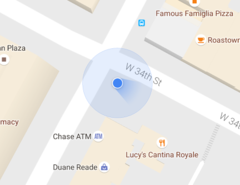 Google has made it easier to know which way you are headed by replacing the direction arrow with a blue beam, that will be wider or more narrow depending on you phone's compass calibration status.
Google is committed to helping you deal with one of the oldest problems on a smartphone: an uncalibrated compass. Sometimes, after charging your phone or passing by a metal pole, your compass will be uncalibrated. In the past, if this occured, the direction arrow in Google maps did not show at all or changed position randomly. In a recent update, Google has addressed the problem by replacing the arrow with a blue beam.
That beam will be wider or more narrow depending on the calibration status of your compass. If it is working correctly, the beam will show a narrow beam of blue light guiding you in your direction. If the beam is overly wide, just move your phone in a figure 8 motion like shown down below. This should recalibrate the compass and make the beam narrow again. The Google Maps update has started to roll out to Android users everwhere.