Apple: iOS 10.0.2 fixes Lightning earpods control issues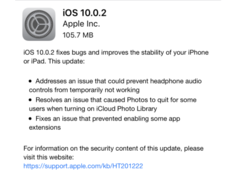 Even if Apple is already beta testing iOS 10.1, it is still busy fixing bugs in iOS 10. Version 10.0.2 fixes a few usability issues with Lightning headphones and the Photos app.
Just a few days ago, Apple opened up the first beta version of iOS 10.1 to the public for everyone to check out the new portrait mode on the iPhone 7 Plus. If you did not update to the beta version, you may have seen a notification asking you to update to iOS 10.0.2. This is strictly a bugfix release, it will not bring any new features but might make your experience with iOS 10 smoother, especially if you used Lightning earphones in the past. iOS 10.0.2 is supposed to fix an intermittent loss of playback controls with Lightning headphones. It also fixes a stability issue with the Photos app and helps with enabling some app extensions. The OTA-update is recommended for all iPhone-, iPad- and iPod Touch-users on iOS 10.