New Apple iPhone 7 "Dive" spot lays focus on water and sound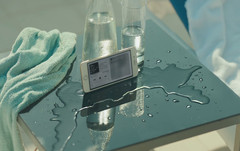 Once again, Apple is enlightening us with a short promo video for its successful iPhone 7. It is all about the sun, music, some water and a slightly unusual target group: older men.
Apple has created yet another spot promoting its bestseller the iPhone 7 and the iPhone 7 Plus. This time, Apple's intention was to focus on the powerful sound the stereo speakers on the new iPhone can make. Even though the iPhone warranty does not cover water related damage, as the fine print at the end of the spot will tell you, water also plays a big part in this spot. Not only will the iPhone 7 come in direct contact with it, the male lead will take a big dive as well and thereby act as cool as other, much younger iPhone 7 promoters did before him. Have a look at Apple's newest promo video for the iPhone 7 down below!