Lower capacity iPhone 7 units have significantly slower storage speed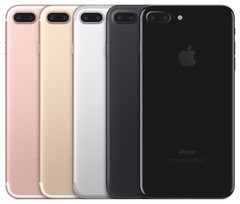 Recent tests confirm Notebookcheck.net's findings that iPhone 7 units with 32 GB of storage have significantly slower read/write performance than their 128GB and 256 GB variants. This could result in slower speeds when transferring large files to and from the phone.
Working For Notebookcheck
Are you a techie who knows how to write? Then join our Team! Especially English native speakers welcome!
Currently wanted:
News and Editorial Editor - Details here

When deciding between models of a new phone, most people consider things like screen size, processor performance, and storage capacity. Few people consider the read/write speeds of the different storage sizes of a particular device, assuming it should be similar across capacities. However, testing by GSM Arena and YouTube channel Unbox Therapy have shown differences in the storage performance of different capacity iPhone 7 units. These independent tests confirm the differences in storage speeds we found in our iPhone 7 review.
Using various benchmarking tools, GSM Arena demonstrated this performance difference. Testing was done using a 32GB iPhone 7 Plus, a 128GB iPhone 7, and a 64 GB iPhone 6s Plus. After multiple runs in Basemark, a tool that tests various aspects of the device, the GSM Arena found that the 128 GB variant has about twice the read/write performance as the 32 GB version (~1700 points for the 128 GB model to ~850 points for the 32 GB model). GSM Arena also ran tests in Passmark, another synthetic benchmarking utility. The storage tests showed that the 128 GB iPhone had about 34% faster read speeds than the 32 GB unit. The 128 GB model was also 6.7 times faster at writing files than the 32 GB version (308 MB/s compared to 39.6 MB/s) . Even the older 64 GB iPhone 6s Plus was 4 times faster in the write test, showing off a write speed of 200.6 MB/s.
While these benchmarks do show performance differences, they are synthetic and may not be true to life. For a real world test, GSM Arena shot a 10 minute video at 4K using the iPhone models, then used the Photos app to edit and cut the video in half. This test has the iPhones read through the original file (about 3.2 GB) and then write a new 4K video file to storage. The 128 GB variant completed the test in 17 seconds, compared to the 32 GB's 52 seconds. In this test, the 128 GB model was 3.35 times faster than the 32 GB model. This is a significant difference in speeds for something consumers may find themselves doing regularly.
In a separate test, Lewis with YouTube channel Unbox Therapy used the Performance Test benchmarking tool on a 32 GB and 256 GB iPhone 7. He also used iTunes to transfer a 4.2 GB movie file to each device. The following table breaks out his findings:
| Test | 256 Gb iPhone 7 | 32 Gb iPhone 7 | Difference |
| --- | --- | --- | --- |
| Performance Test Read | 851 MB/s | 686 MB/s | 165 MB/s (24%) faster |
| Performance Test Write | 359 MB/s | 42.4 MB/s | 316.6 MB/s (746%) faster |
| iTunes movie transfer time | 2:34 minutes | 3:39 minutes | 1:05 minutes (30%) faster |
Phone companies often outsource different storage capacities to different manufacturers, as may be the case with the iPhone 7. This can result in different chipsets being used, which can cause noticeably different speeds.
While these performance differences may not affect most users, it can affect people that regularly transfer movies and other large files to and from their iPhones. Customers that often move media onto and off of their phones may want to consider these differences in speed before purchasing a new iPhone 7.