Renders show Geotel is creating a new small smartphone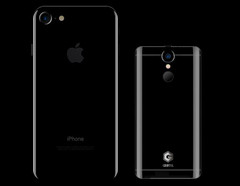 Customers looking for a small phone below 5 inch in size do not have much choice available to them. Geotel might soon give them a new one. New renders reveal that the company is working on something small and beautiful.
If you are on the lookout for a small phone below 5 inch in size, there isn't much to choose from. Of course you have the 4.7 inch iPhone models. Then there is the Sony Compact-Series but most mini versions of big phones are neither that small nor very powerful. Sharp has some smaller phones like the Aquos mini or the Aquos Xx3 mini but those are only sold in Japan. Then of course, there is the Vphone S8 but thats most likely not your preferred choice either. New renders showing a black Geotel smartphone reveal that a new mini phone might be right around the corner.
Judging from the comparison between the Geotel phone and the jet black iPhone 7, the Geotel might be about one third smaller than the 4.7 inch iPhone 7. It certainly looks equally beautiful, however there are visible antenna lines on the back of the phone, which is curved on both sides. One can clearly see the comparably big camera lens on the back of the phone, which sits right over of the fingerprint sensor. Unfortunately no technical data or even just model number exist for that phone yet, we will have to wait for more information to drop in.