Acer Chromebook R13: Google Play Store available on the Beta channel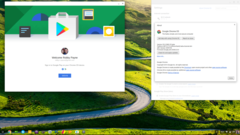 The Acer Chromebook R13 joins three other Chromebooks in being the first ones to be able to run Android apps thanks to the Google Play Store integration. Early users have to switch to the Beta channel to start testing.
Google announced the availability of the Google Play Store for Chromebooks during the Google I/O developer conference earlier this year and since then only a handful of Chromebooks have actually been able to take advantage of running Android apps. Among those were the Acer Chromebook R11, the Asus Chromebook Flip and the Google Chromebook Pixel. Early testers had to switch to the developer channel on these devices. This is not necessary on the Acer Chromebook R13, which joins the three aforementioned Chromebooks today, but users still have to switch to the Beta channel in order to install the Google Play Store.
Google has promised to eventually enable Google Play Store integration for a lot more Chromebooks out there, a detailed list can be viewed here. A very short first impression on how Android Apps work on the Acer Chromebook R13 was posted on Google+ earlier. The verdict is mostly positive, there are a few small quirks to be aware of though, so if you are interested and own an Acer Chromebook R13, be sure to check them out before committing yourself to the Beta channel.