This is how the internet is making fun of Apple's iPhone 7 and their AirPods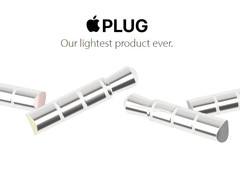 The courage that Apple showed stripping the iPhone from its headphone jack is being put to a test every day now, with artists and comedians all over the world making fun of Apple, the iPhone 7 and their newest wireless earpods, the AirdPods.
Of course the missing headphone jack is the highlight in many of this years iPhone parodies. But why stop there? Stephen Colbert didn't and stripped the iPhone 7 of everything until only a metal brick remained. Good he still has a friend with an iPhone 6. If you do have an older iPhone, why don't you get the new and extremely light Apple Plugs? They are carefully crafted and will upgrade your old iPhone to an iPhone 7 in seconds, trust me, it is better! Oh and if you cannot listen to music and charge at the same time, College Humor has a solution in their video.
You could buy expensive bluetooth earpods like the Apple AirPods, but be careful not to loose them! You might need an app for that eventually or hang them onto your ears. Did you notice any major difference in design between the iPhone 7 and its previous generations? Don't worry, Charles, the French, didn't either. Oh wait, there was one thing - he will explain it to you in his video. All these and many more parodies are flooding the internet these days. It does show that Apple still knows how to be the talk of the day but will they be able to convert this attention into actual sales?