Apple iPhone 6s and 6s Plus: Apple bumps storage to 32 GB and 128 GB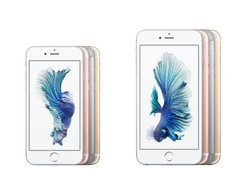 Apple did announce a small change to the existing iPhone 6s and iPhone 6s Plus-lineup before dropping the mic on yesterday's event. The company will give you twice the storage on the two lower storage versions.
Yesterday Apple introduced the iPhone 7 to the world, the new iPhones will be available for pre-order starting tomorrow and start shipping September 16. Traditionally, Apple will continue to offer the previous iPhone generation at reduced prices but this year, they did something special. They will bump up the storage on the 16 GB and 64 GB iPhone 6s and iPhone 6s Plus models, so you will be able to get your hands on the 32 GB iPhone 6s for $549 and the 32 GB iPhone 6s Plus for $649.
The previous 64 GB version will now come with 128 GB of storage and be available for $649 if you order the iPhone 6s and 749 US-Dollars for the iPhone 6s Plus. These prices together with the bumped up storage could make them attractive for those who either do not need the new features of the iPhone 7 and iPhone 7 Plus or are not ready to give up on the headphone jack just yet.