Dongle life with Apple MacBook (Pro) and iPhone 7: The Video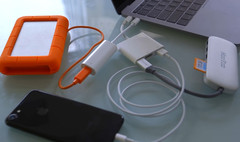 How is life with the new MacBook (Pro) and the iPhone 7, The Verge wondered and made a video about it. Is it better now than with previous generations? Or are you stuck in dongle hell? Watch and find out for yourself!
Since the 12 inch MacBook came out last year there was a lot of talk about the the disadvantages of only having one USB-C port. The discussion heated up earlier this year when it became clear, that Apple would ditch the headphone jack on the iPhone 7. A few weeks ago, the release of the MacBook Pro made it clear, that Apple was determined to ditch every port they did not deem as future proof even though they ironically decided to keep the headphone jack on the MacBook Pro.
But how is daily life as a MacBook Pro and iPhone 7 user? Will you be stuck in dongle life? The Verge decided to find out and made a short video about it (see below). They asked a MacBook Pro and iPhone 7 user to finish certain tasks, that never posed a problem on earlier MacBook and iPhone generations like listening to music while charging the phone or copying data from SD cards. While nobody is questioning the fact, that USB-C/Thunderbolt 3-ports and wireless data- and audio transfers are the future, the present will most likely look similar to what you can see on the video. Enjoy!