AMD Ryzen 9 4900HS in Asus ROG Zephyrus G14 takes out Dell Precision 5540's Intel Core i9-9980HK in Geekbench multi-core contest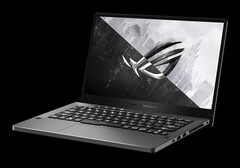 An Asus ROG Zephyrus G14 laptop has been spotted on Geekbench being tested along with its powerful new AMD Ryzen 9 4900HS APU. While the reported single-core scores held up well against the rival Intel Core i9-9980HK, the Renoir chip's multi-core results surpassed what the Coffee Lake processor managed in the Dell Precision 5540 we tested.
Obviously the Asus ROG Zephyrus G14 and the Dell Precision 5540 are targeted at completely different user groups, but it is still interesting to see how their respective processors fared against each other in Geekbench tests (v. 4.4). The single-core scores recorded left the Intel Core i9-9980HK in charge, with the AMD Ryzen 9 4900HS scoring 5,309 points compared to the Coffee Lake chip's 5,617 points.
However, the multi-core scores are more flattering for the Zephyrus G14 and its Ryzen 9 4900HS. Scores of 29,254 points and 30,047 points have been unearthed, and both of these are ahead of the i9-9980HK in the Precision 5540, which scored 28,625 points. Both chips have 8 cores and 16 threads, but the Intel part is more power-hungry. While it relies on a 45 W TDP the Renoir APU is content with a default TDP of 35 W.
There is a record of the Intel Core i9-9980HK being pushed to a multi-core score of a whopping 35,403 points in an Asus ROG Mothership GZ700GX laptop. But even if you disregard the extra space that 17-inch beast has for a cooling solution and the 10 W TDP advantage, there is something else that needs to be kept in mind. The Intel chip in this system was on stepping level 13 whereas the AMD Ryzen 9 4900HS is only on stepping level 1, so still room for plenty of tweaks and improvements for the latter. The new Ryzen 4000 APU has offered up strong multi-core performance results against a Coffee Lake processor that requires more power.
| | Asus ROG Zephyrus G14 | Dell Precision 5540 |
| --- | --- | --- |
| Processor | AMD Ryzen 9 4900HS | Intel Core i9-9980HK |
| Cores/threads/TDP | 8/16/35 W | 8/16/45 W |
| Geekbench 4.4 single-core | 5,309 points | 5,617 points |
| Geekbench 4.4 multi-core | 30,047 points | 28,625 points |