iPhone 13 mini and 3 other tragic smartphone fails that deserved better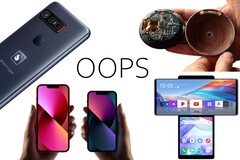 The choices and comments made on this list belong solely to the author.
1. Monohm Runcible — the circular dream that never came true
The Monohm Runcible started life at MWC 2015 as a kickstarter project with the tagline Runcible - Circular Open Source Anti-Smartphone. Monohm's goal was to make a smartphone an intelligent object that integrated seamlessly into your life and didn't make you change your habits to suit the device.
A non-intrusive smartphone experience is something most people could probably get behind. The most interesting aspect of the Runcible has to be the design — it featured a circular chassis and screen, and it had a rounded back with interchangeable back panel designs. Monohm even developed its own heavily-customised OS, called BuniOS, to run the Runcible's weird, circular experience.
At the end of the day, Monohm never shipped a production version of the Runcible, despite collecting US$294,052 from backers, taking preorders, and receiving surprisingly positive impressions from media at the time.
2. LG's smartphone business closes for good — goodnight, sweet prince
The April 2021 closure of LG's smartphone division was met with great sorrow from many smartphone enthusiasts. LG cited a shift in focus to other markets like AI, electric vehicles, IoT, and robotics as the driving factors behind the decision.
In its heyday, LG made some pretty innovative smartphones — whether it be the self-healing LG G Flex devices, the oddly-genius LG Wing, or the more subtly-innovative LG V60 ThinQ with its QuadDAC for high-impedance headphones — proving that knowing how to make hardware is not the only important factor in the success of a smartphone business.

3. Apple iPhone 13 mini's poor sales figures mean no iPhone 14 mini?
The iPhone 13 mini is a masterclass on how to make a small phone. It has basically the same specs as the flagship iPhone 13, save the smaller battery, and costs less than the iPhone 13. Despite classic iPhone aesthetics, small-form factor advantages, engineering and overwhelmingly positive reviews, the sales figures for the iPhone 13 mini have been abysmal. iPhone 13 mini sales are so poor that rumours claim Apple will not release an iPhone 14 mini.
The iPhone 13 mini is an almost-perfect device for users who prefer smaller devices but still want oodles of power, and it is about the only truly compact flagship available in 2022.
4. The ASUS Phone for Snapdragon Insiders melted its wax wings
The ASUS Phone for Snapdragon Insiders was slated to be the ultimate enthusiast phone but, like Icarus, flew too close to the sun. The ridiculously-named ASUS/Qualcomm partnership turned out to be an overpriced flagship that was merely pretty good at just about everything. At an eye-watering US$1,499, it struggled to compete with cheaper high-end contemporaries, like the Samsung Galaxy S21 Ultra 5G, or the Sony Xperia 1 III 5G.
The Phone for Snapdragon Insiders certainly had the equipment to be a top-notch flagship — a 144 Hz Super AMOLED display, Qualcomm Snapdragon 888 5G, a flagship-tier triple rear camera setup, and even unique features like Snapdragon Sound Technology — but lack of optimisation and a high barrier to entry led to many enthusiasts baulking at the thought of buying into the Snapdragon dream.

My interest in tech started in high school, rooting and flashing my Motorola Defy, but I really fell down the rabbit hole when I realised I could overclock the i7 930 in my Gigabyte pre-built PC. This tinkering addiction eventually lead me to study product design in university. I think tech should improve the lives of the people using it, no matter the field. I like to read and write about laptops, smartphones, software and trends in technology.