Apple iPhone 13 mini killers: 3 compact Androids that will blow you away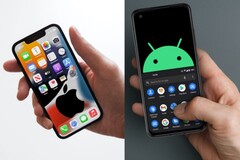 The choices and comments made on this list belong solely to the author.
1. Samsung Galaxy Z Fold3 5G
Wait, the first entry in a list of compact flagships is a phone with a 7.6-inch display? Yes. There is a good explanation as well - the front display and folded form factor. The Samsung Galaxy Z Fold3 is quite compact when it's in its folded form. At 67.1 mm (2.64 in) wide, it is only 2.9 mm (0.11 in) wider than Apple's iPhone 13 mini. Granted, that front display is 6.2 inches and does have a rather long 25:9 screen ratio, so reachability could still be hit or miss.
The rest of the Z Fold3 package is quite compelling too - both the internal and external displays are 120 Hz 2X AMOLED panels that can reach up to 1200 nits. There is also the obvious advantage of the giant internal display and Fold Edition S Pen if you want to get actual work done. The flagship-grade camera performance and the otherwise flagship specs make it very easy to live with if you can get past the dreaded crease.
2. Sony Xperia 5 III
At only 6.1 inches, the Sony Xperia 5 III's stretched 21:9 form factor puts it at 68 mm (2.68 in) wide - 3.8 mm (0.15) wider than the iPhone 13 mini - which makes it a compact flagship of note. The excellent Qualcomm Snapdragon 888 5G SoC, 120 Hz OLED display, and professional camera package mean the Xperia 5 III's size is the only area where anything was cut. Sony's killer real-time eye AF is a fantastic addition if you're particularly into mobile photography and videography.
Altogether, the Xperia 5 III is a solid, compact flagship that threatens to put the more expensive Sony Xperia 1 III to shame. It seems that Sony really has taken the performance of its flagship and just squished it into a smaller chassis.
Did you buy the popular Google Pixel 6? Protect it without adding extra bulk using a Spigen Thin Fit case, available on Amazon.
3. ASUS Zenfone 8
The ASUS Zenfone 8 is just barely the only sub-six-inch phone on this list. The Zenfone 8 packs a 5.9-inch, 120 Hz, 1100 nits, Super AMOLED display, and a Qualcomm Snapdragon 888 5G SoC, making it a truly compact flagship experience. At 68.5 mm (2.7 in) wide, the Zenfone 8 is only 4.1 mm (0.16 in) wider than the iPhone 13 mini, meaning that while it is certainly small, there are other phones out there that are even more graspable. The small display and rounded back should make reachability and one-handed use fairly easy.
Another standout feature is the excellent dual camera system - a 64 MP, optically-stabilised main camera and a 12 MP wide angle lens with dual-pixel phase-detection autofocus. The choice to opt for just two well-optimised rear cameras - and forego the offensive 2 MP macro and depth sensors - shows that ASUS is serious about the Zenfone 8 and its consumers.
My interest in tech started in high school, rooting and flashing my Motorola Defy, but I really fell down the rabbit hole when I realised I could overclock the i7 930 in my Gigabyte pre-built PC. This tinkering addiction eventually lead me to study product design in university. I think tech should improve the lives of the people using it, no matter the field. I like to read and write about laptops, smartphones, software and trends in technology.