LG Mobile's closure would be a sad loss for smartphone fans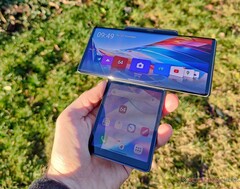 Views, thoughts, and opinions expressed in the text belong solely to the author.
According to The Korea Times, LG has pull back from the smartphone market altogether. Last month, Bloomberg claimed that LG was considering rolling up its mobile division, having failed to negotiate a deal with Volkswagen AG or Vingroup JSC. Apparently, insider sources have informed The Korea Times that:
LG has considered various operations...of the smartphone business, but [it] decided recently to pull out of the business.
LG denies that this is the case, with The Korea Times quoting a company official as having said that 'there's nothing to comment on'. While the same official supposedly stated that LG 'will announce the specific direction' of its mobile division, they stuck to the line that the company continued to explore every possibility.
However, The Korea Times claims that LG will announce the end of its mobile divisions as early as April 5. Added to that, @FrontTron asserts that LG has already closed its FANDOM service in South Korea.
In our opinion, it would be unfortunate if LG were to leave the smartphone market. Its popularity may pale in comparison to Apple's, Samsung's or Xiaomi's, but it does release devices with innovative features. The Wing is an extreme example of that with its secondary display, but the Quad DAC in the V series is a feature that few smartphones have come close to matching. LG was the first company to release a smartphone with an ultra-wide-angle camera too, a now ubiquitous feature for flagship and mid-range devices.
Similarly, the LG G5 is one of the few modular smartphones, and the LG V20 may well be the last flagship with a removable battery. LG even experimented with a secondary display on the V10 and V20, years before it released the Wing. Lest we forget the G Flex too, and its curved OLED display. We are just scraping the surface with the innovations that LG brought to the smartphone market, including being the first company to mass-produce devices with QHD displays. However, the company's appalling software support and non-existing marketing strategy, at least in Europe and the US, probably precipitated its smartphone division's downfall.
Views, thoughts, and opinions expressed in the text belong solely to the author.
Prior to writing and translating for Notebookcheck, I worked for various companies including Apple and Neowin. I have a BA in International History and Politics from the University of Leeds, which I have since converted to a Law Degree. Happy to chat on Twitter or Notebookchat.