The OnePlus 8 may launch as a Verizon 5G device in the US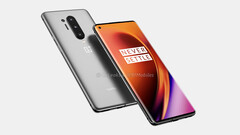 The media outlet Android Police asserts that the OnePlus 8 will be compatible with Verizon's 5G network when it is released to the US market. Not only that, in fact, but it will also apparently launch through this carrier. However, the OEM already has such a partnership with T-Mobile in the same country.
A new report published by Android Police makes a number of bold claims about the future of OnePlus and how it relates to the US market. Firstly, the outlet asserts that, not only will there be a phone called the 8, it will be 5G-capable. Furthermore, it will be compatible with Verizon's bands - and, moreover, is to be sold through this carrier.
OnePlus had already secured a partnership with T-Mobile, by which flagships such as the 6T and 7T Pro McLaren Edition (which is also 5G) were made available through this carrier. Therefore, should this new report prove accurate, it could represent a major score for the Chinese OEM in which it adds a 2nd US telecomms company as a vendor.
Android Police claims to have heard this story through "a source familiar with the companies' plans". However, the report fails to mention how the apparent new agreement may affect the pre-existing relationship between OnePlus and T-Mobile - or if the phone in question will be exclusive to its new putative carrier.
Then again, the outlet is "confident" that units of the 8 sold under this model will come pre-installed with Verizon's bloatware, something that is at odds with the OEM's Android skin's normally "burdenless" reputation.