The Galaxy Z Flip is Samsung's second-generation foldable phone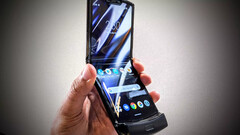 Samsung is expected to release a new foldable phone at its Galaxy Unpacked event on February 11. Information points towards the phone sporting a Motorola RAZR-esque design, and it will apparently be called the Galaxy Z Flip.
Samsung released the Galaxy Fold months ago after eons of dallying and delayed launches. While the commercial success of the device is debatable, that doesn't seem to have deterred the South Korean company, as it will unveil another foldable phone next month at the Galaxy Unpacked event.
According to popular leakster Ice Universe, the upcoming foldable phone will be called the Galaxy Z Flip. The name "Galaxy Bloom" has floated around recently but that appears to just be an internal designation for the Galaxy Z Flip.
We're not sure why Samsung went with this particular name, as it isn't the most remarkable. Most would argue that just "Galaxy Flip" sounds a lot better, but then Samsung does whatever Samsung wants. The "Flip" tag makes sense, at least. The Galaxy Z Flip will be more of a clamshell phone, akin to the Motorola RAZR that was unveiled a while ago, unlike the tablet-style Galaxy Fold.