The Manifold 2: the on-board mini-supercomputer than can turn DJI drones into autobots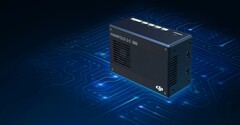 DJI has announced the Manifold 2, a line of tiny supercomputers that can be installed on certain drones from this manufacturer. These devices can upgrade the devices in quesiton into autonomic flying machines, or those that can be trained to recognize certain objects or use an AI.
DJI has released the Manifold 2, a new super-small onboard supercomputer that can be used to upgrade a number of this company's drones. The device confers a substantial amount of brain on the flying robot in question. It allows the user to convert it into an autonomous robot, AI-enhanced aerial solution or object-detecting or tracking machine.
The Manifold 2 comes in 2 basic flavors: one with an Intel Core i7-8550U for a processor or one with the NVIDIA Jetson TX2 platform. They can be chosen based on the applicaiton in mind: for exampke, the 'Jetson' model supports AI-related functions, whereas the i7 is required for autonomy, as well as other forms of robotics or powerful analytical capabilities.
The possibilities of the Manifold 2 are so compelling that it is almost a shame that it is only compatible with enterprise-grade DJI drones. They are of either the Matrice 210 or Matrice 600 series. However, the popularity, future development and refinement of this technology may see its successors in consumer-level products one day. Until then, the 'i7' model is currently priced at US$1,379, whereas the Jetson TX2 version is $1,099. They are available from dji.com in North America, or from authorized resellers elsewhere on Earth.